"Epidemics, like disasters, have a way of revealing underlying truths about the societies they impact." (Anne Applebaum) Consider this observation in the light of recent or ongoing epidemics (or outbreaks or pandemics).
by KHOO JING XUAN Year_2016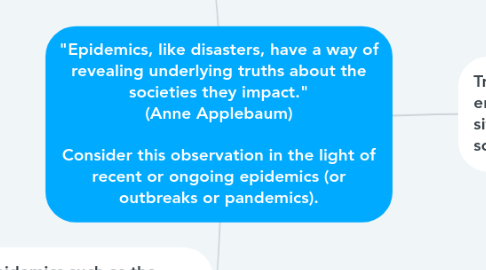 1. Truths about the political situations in the society
1.1. The US president Donald Trump was criticized for his response to the COVID-19. He was accused of spreading several misleading claims, as well as downplaying the significance of the pandemic, on his social media accounts. It was also thought that this could be a contributing factor to his failure to win reelection in the 2020 United States presidential election.
2. Truths about the environmental situations in the society
2.1. As the recent COVID-19 has led to a worldwide economic slowdown, in addition to movement restrictions, air quality has improved in many countries with a reduction in water pollution in different parts of the world.
2.2. For instance, China reduces almost 50–90% capacity of departing and 70% domestic flights due to the pandemic, compared to January 20, 2020, which ultimately deducted nearly 17% of national CO2 emission.
3. Epidemics such as the recent COVID-19 has also highlighted the problem of inequality
3.1. Low income individuals are more likely to contract the disease and succumb to it. In New York City and Barcelona, low income areas are irregularly hit by coronavirus cases.
3.2. In countries such as US, their healthcare accessibility is determined by their insurance premiums owned. Usually, this is offered together with their jobs. However, the COVID-19 has led to millions of citizens retrenched. Thus, without affordable insurance premiums, these people have a lack fo access to healthcare