Teaching
by Drew Soendlin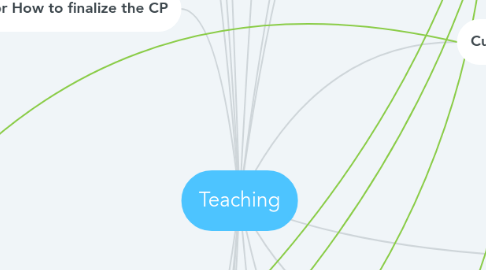 1. Technology
1.1. Tech Educated
1.1.1. Understanding how to use programs such as seesaw can help enhance the classroom and my teaching abilities.
1.2. Tech Eudicot
1.2.1. Posting on social media can impact my career and how schools look at me as a possible teacher and person.
2. Culturally Responsive Teaching
2.1. Culture of Students
2.1.1. We need to know our students and their culture to be able to teach to their strengths. It also helps me learn more about my students.
2.2. Non-Traditional Texts
2.2.1. Using text that relates to our students can not only help them learn but relate to the story to themselves. Using texts that we would consider not traditional helps the student understand and relate to the passage.
2.3. My Culture
2.3.1. My culture needs to be present in my classroom. Not just for me but for my students to understand me.
2.4. Teaching for social justice
3. Teaching Strategies
3.1. Technology
3.1.1. Technology such as seesaw is a great tool for teachers to use in and out of the classroom.
4. Grading
4.1. 0-100 Scale Grading
4.1.1. I personally have never thought that this was a good practice especially because of how it is set up for failure for so many students.
4.1.1.1. As a future educator I plan on grading my students more on development throughout the school year, rather than focusing on standardized grades.
4.2. Grading on Student achievement and ability.
4.2.1. From this semester I have learned that we as educators can make a difference on the way we grade.
5. Professionalism
5.1. Growth in Education
5.1.1. Gaining an education and continuing to grow will help me in my teaching and my students learning.
5.2. Adapting to Community
5.2.1. Becoming a part of the community that I am in can help me better my teaching practice.
6. Experiences
6.1. Student Experience
6.2. Teacher Experience
6.2.1. Gaining experience through field can help me reach my teaching goals and become a professional educator.
7. Community
7.1. Establishing Community
7.1.1. I believe that creating a community in the classroom can help student learning, and give them a sense of connection.
7.1.2. I think that students can have a better education experience if there is a good sense of belonging in the classroom and feel that they are an important member of the community.
7.1.3. Not only does this include inside the classroom but it also includes being a part of the local community and learning about it.
8. Assessment
8.1. We assess our students to measure their progress.
8.1.1. We need to remember that every student is at a different level in their learning. It is important that we are not doing assessments based on the state standard but progress they make throughout the year.
8.2. Assessment can be measured in many different ways depending on the student progress.
8.2.1. The way we can track student progress best is through using strategies that help the students express what they know.
9. Observations
9.1. Observing students this semester has been interesting and challenging this semester.
9.1.1. Being on zoom I feel prepares us for if another global pandemic would occur, It also opens up another window for teaching over the internet.
10. Organizations
11. Literacy
11.1. Culturally Responsive Literacy
11.1.1. Having an environment for students that promotes cultural experience and literacy.
11.1.2. Building Peer and Student relationships to help my students.
11.2. Fostering Interest in Literacy
11.2.1. Being able to make signs, creating classroom rules, and making play centers that involve literacy.
11.2.2. Creating interest in things that children are familiar with.
11.3. Vocabulary
11.3.1. Teaching Vocabulary
11.3.1.1. Students who have an extended vocabulary tend to read better because of how extended their word knowledge is.
11.3.1.2. Tiers of Vocabulary
11.3.1.2.1. I know that the tiers of vocabulary are a crucial stepping stone for students and their reading development. For children to be successful in the classroom I as an educator need to make these tiers priority.
12. Reading
12.1. Read aloud
12.1.1. Helping children to gain confidence and fluency in their reading.
12.2. Fluency
12.2.1. Helping students create connections in reading that
12.3. Comprehension
12.3.1. The process of understanding what the reader take from a story, passage, text.
12.3.1.1. Comprehension is what drives students to read and is the reason why we read and enjoy reading.
12.3.1.2. As teachers it is our responsibility to help our students enjoy reading and with that they need to have a well rounded comprehension.
12.3.2. Comprehension Strategies
12.3.2.1. Using different strategies helps students reach their full reading and comprehension abilities.
13. Notes for How to finalize the CP
13.1. One of the most important about this is knowing what kind of teacher am I
13.1.1. Earlier this semester I would say that I was a jellyfish no structure very flexible.
13.1.2. Now I see myself as a backbone teacher because I have developed more structure throughout this semester but have become more structured, and organized with my practices.
13.2. Type of teacher
13.2.1. I see myself as a buddy, Parental, and Aloof.
13.2.1.1. With myself in all of these types of teachers. I am caring and will support my students while trying to respect and build my students up as humans.
13.3. What are students to me?
13.3.1. I feel that students are the future of the world. What I do in the classroom will shape them as individuals and as the future leaders of tomorrow.
13.3.2. I think that students need to feel that they know that my respect for them is everlasting. Yes there will be times where I will struggle to express my respect, but I will always have respect for my students. I want to treat them how I wanted to be treated as a student.
13.4. Disciplinary Strategies
13.4.1. I feel that the chart is a good way of having students see as a visual representation of where they are at during the day. Now I would not publicly shame them. I would have the chart as a way for them to individually know how to change their perception.
13.5. Diversity Beliefs
13.5.1. For me my thoughts on Diversity are basic and idea for my teaching practice. I have learned that I will not always agree on the ideas of my students and or colleagues. What I do know is that I will respect their beliefs and diversity. Just like I want people to respect me as a Christian, Man, and Male educator. I am a firm believer if treating others how I want them to treat me.
14. Morning Meeting
15. Text Talks