Engineering Economic - Chapter 1
by Laura Estefania Sanchez Azuero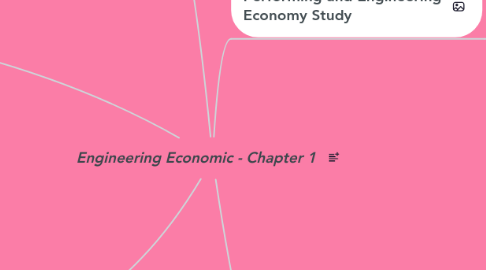 1. DESICION
1.1. Factor upon which a desicion
1.1.1. Economic Elements
1.1.2. Not Economic Elements
1.2. Sensitivity analysis
1.3. Criterion to select an alternative is a meseare of worth
1.3.1. PW, ROR, PAYBACK PERIOD, FW, B/C, AW, EVA, CC, COST EFFECTIVENNES
2. Description and Role in Desicion Making
2.1. MATHEMATICAL TECHNIQUES
2.1.1. Used for all types of money matters, in bussines, governements, and individuals.
2.2. ESTIMATES
2.2.1. Depend
2.2.1.1. Cash Flows
2.2.1.2. Times of ocurrence of cash flows
2.2.1.3. Interest rates for time value of money
2.2.1.4. Measure of economic worth of selecting an alternative
2.3. TIME VALUE MONEY
2.3.1. Explains the change in the amount of money
2.3.1.1. Use the analysis of past cash flows.
3. Performing and Engineering Economy Study
3.1. ENGINEERING ECONOMIC STUDY ELEMENTS
3.1.1. Problem identification, Objetive, cash flow estimation, fanancial analysis, desicion making
3.2. STEPS
3.2.1. Identify and understand the problem, identify the objetive
3.2.2. Collect relevant data and define viable solution alternative
3.2.3. Make realist cahs flow estimates
3.2.4. Identify an economic measure of worth criterion for decision making
3.2.5. Evaluate each alternative consider noneconomic factors and use sensitivity analysis
3.2.5.1. The use of techniques and computations show two important elements: taxes and inflation
3.2.6. Select the best alternative
3.2.6.1. About the noneconomic factor the do nothing alternative make the status quo.
3.2.7. Implement the solution and monitor the results.
4. Interest Rate and Rate of Return
4.1. INTEREST
4.1.1. Manifestation of the time value
4.1.1.1. Of money
4.1.2. Computationally
4.1.2.1. Difference between
4.1.2.1.1. Ending amount of money
4.1.2.1.2. The begninning
4.2. INTEREST PAID
4.2.1. A person or organization
4.2.1.1. Borrowed money
4.2.1.2. Repays a larger amount
4.3. INTEREST EARNED
4.3.1. A person or organization
4.3.1.1. Saved
4.3.1.2. Invested
4.3.1.2.1. Money
4.3.1.3. Lent
4.4. INTEREST PAID
4.4.1. Is determined using the original amount
4.4.1.1. Also called the principal
4.5. INTEREST RATE
4.5.1. The interest paid over a specific time unit
4.5.1.1. Expressed as a percentage
4.6. INTEREST PERIOD
4.6.1. Most common interest period
4.6.2. Time unit of the rate
4.6.2.1. 1 year
5. Professional Ethics and Economic Decisions
5.1. Morals
5.1.1. Form the character and conduct of a person
5.2. Ethics
5.2.1. Evaluates moral practices
5.2.2. Code of Ethics for Engineers
5.2.2.1. Desings, actions anda decisions
5.3. Situations that have ethical dimensions
5.3.1. In the design stage
5.3.1.1. Omit safety factors
5.3.1.2. Designer engineer don`t have sufficient time
5.3.2. While the system is operating
5.3.2.1. Safety margins are compromised
5.3.2.1.1. Bhopal, India; Union carbide
5.3.2.2. Delayed or below-standartd maintenance
5.4. Take into account issues related to ethics