ENVIRONMENTAL PROBLEMS
by Mihaela Murtić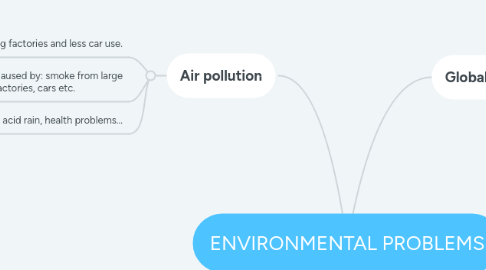 1. Soil pollution
1.1. Caused by: throwing garbage into the environment, use of artificial fertilizers, use of various agricultural products...
1.2. We can prevent it by seperating garbage, use natural fertilizes, cleaning the environment...
1.3. Causes destruction of trees, grass, and plants.
2. Water pollution
2.1. It effects sea animals, human, animal and nature health.
2.2. Caused by: plastic (bags,straws,cups...), oil, etc.
2.3. We can prevent it by using reusable bags, straws, cups, cleaning beaches, cleaning rivers, seas...
2.4. Causes death of many sea animals.
3. Air pollution
3.1. It can be prevented by using renewable energy sources, using smoke filters on big factories and less car use.
3.2. Caused by: smoke from large factories, cars etc.
3.3. Causes: acid rain, health problems...
4. Global warming
4.1. Caused by greemhouse effect
4.2. Casuses climate changing, melting glaciers, and melting animal habitats.