How did these social, economic, and intellectual forces lead the colonies toward revolution?
by Kyle Smith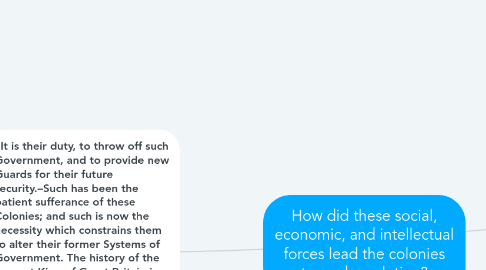 1. " There appeared to be an understanding that each individual should volunteer his services, keep his own secret, and risk the consequences for himself" ← George R. T. Hewes, A Retrospect of the Boston Tea-party, with a Memoir of George R.T. Hewes (New York: 1834), 37-41.
1.1. The societal force of anti-oppression meetings had spread and each person understood that they needed to take a a stand against the British.
2. "But there is another and great distinction for which no truly natural or religious reason can be assigned, and that is the distinction of men into KINGS and SUBJECTS...O ye that love mankind! Ye that dare oppose, not only the tyranny, but the tyrant, stand forth! Every spot of the old world is overrun with oppression"-Thomas Paine, Common Sense (Project Gutenberg EBook: June 2008)
2.1. The intellectual forces and ideas that questioned hierarchy and abuse of power were at large the calls to action to release the shackles of oppression.
3. "It is their duty, to throw off such Government, and to provide new Guards for their future security.–Such has been the patient sufferance of these Colonies; and such is now the necessity which constrains them to alter their former Systems of Government. The history of the present King of Great Britain is a history of repeated injuries and usurpations, all having in direct object the establishment of an absolute Tyranny over these States"-Declaration of Independence, 1776
3.1. The social and economic disaster forces on Colonial Citizens by the British government incentivized and caused wishes and action for alternative forms not by them.
4. . Jean-Baptiste-Antoine DeVerger, "American soldiers at the siege of Yorktown," 1781,
4.1. This water painting depicts the political forces of many different people fighting for different things but they are fighting to dismantle the same oppression by the British
5. J. Barrow, "The British Lion engaging Four Powers," 1782, via National Maritime Museum, Greenwich, London.
5.1. The Social and Intellectual forces such as Political cartoons provided insight into public opinion and the decisions made by politicians, so Cartoons bcame something for amplifying criticism and ultimately swaying public towards revolution