Parvana's character traits.
by Abigail Chepkurui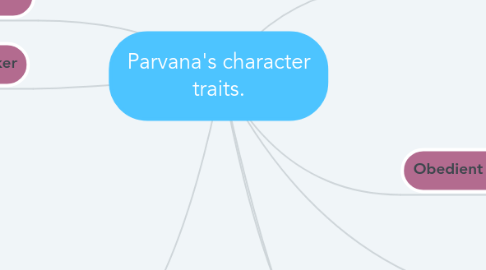 1. When her Mother and Nooria told her to do some house chores like fetching water in the tap,she did so even if she was not willing to do so, only out of her obedience and courtesy.
2. Respectful.
2.1. She respected both her parents and Nooria despite the difficult circumstances.
3. Brave
3.1. She was a valourous girl because she had the courage to go outside with her father to the market though it was against the law.
4. Risk taker
4.1. Being that the girl child was not allowed to go outside,she risked being killed.Nevertheless,when she went outside to fetch water,she also risked because it was law that she go out with a male patner.
5. Honest &Loyal.
5.1. She brought her savings home,and was very honest,telling her family everything that occured wherever she went.She would also follow rules given to her by her father or mother.She also wore her chador because it was a rule from the Taliban at that time.
6. Obedient and docile
7. Caring
7.1. She cared for her family by looking for food,to the extent that she risked her life,going to fetch water outside.
8. Responsible.
8.1. She was a very responsible young girl who accomplished her duties very well ,responsible for everything she did.