Alibaba Summary
by Danny Forest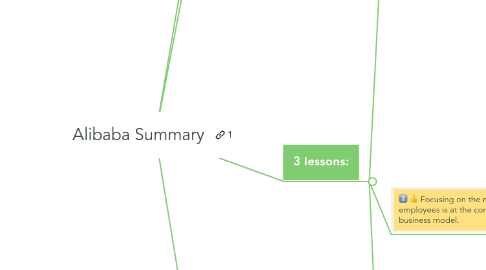 1. 1-Sentence-Summary:
1.1. Alibaba shares the inspiring story of Jack Ma's hard work, entrepreneurial vision, and smart thinking that helped him build one of the most successful and influential companies in the world.
2. Favorite quote from the author:
2.1. "It doesn't matter how wealthy or powerful you are, if you can't enjoy the sunshine, you can't be truly happy." - Duncan Clark
3. 3 lessons:
3.1. Through innovative thinking and hard work, Jack Ma beat all challenges to build Alibaba.
3.1.1. Jack Ma began his career as an English teacher. But one day he had an epiphany that changed his outlook.
3.1.1.1. A friend that had also been a teacher for decades was riding home on an old bike with just a few cheap vegetables.
3.1.1.2. Ma knew that this was all the man could afford, and reflecting on his own future realized he wanted more.
3.1.1.3. He knew that he'd have to be innovative to have a better life than that.
3.1.2. Luckily, this was right around when the internet was becoming more widespread, and Ma began looking into it.
3.1.3. Jack soon began his first company creating websites to share contact information for other Chinese businesses wanting to build their online presence.
3.1.4. It wasn't easy though. Because the technology was new, businesses were difficult to convince to use it.
3.1.5. But by marketing to friends Jack had a good start and saw success early on.
3.1.5.1. One site he made for a Chinese hotel was the only one that American travelers could find online, so they flocked to it!
3.1.6. There were still a few bumps though because the connection in China wasn't always very reliable.
3.1.6.1. Sometimes Jack had to show clients their websites by printing them out on paper. This made it difficult to persuade people that he was legitimate.
3.1.7. But hard work and perseverance prevailed. Not long later, the online retail store Alibaba was born.
3.2. Focusing on the needs of customers and employees is at the core of Alibaba's business model.
3.2.1. Building a brand customers love takes work and commitment to serving your clients, which is exactly what Jack does.
3.2.1.1. His determination to take care of them is a hallmark of his leadership and business model.
3.2.2. "Customers first, employees second and shareholders third." is the mantra that everyone that works at Alibaba knows by heart.
3.2.3. Jack's customers are his "shrimps," which he calls them because they're the little players in the big field of business.
3.2.3.1. It also comes from the humble shrimp-fishing business that makes Forrest Gump rich in the movie.
3.2.4. Jack is determined to give them the exposure they need to succeed.
3.2.5. Through pressure by shareholders, Jack stays strong to his position that customers come first.
3.2.5.1. He'll never compromise his care for clients' needs in favor of what the shareholders want.
3.2.6. The company is also good to its employees. Jack focuses on loyalty and motivation.
3.2.6.1. Many employees have been with the company for years with no plan of leaving.
3.2.6.2. The company's campus is 2.6 million square feet. It's got food, bikes, and even a huge man-made lake for its people to enjoy.
3.2.6.3. If you work for Alibaba you can also get up to a $50,000 loan without interest.
3.2.6.4. For all this Jack gets employees who work hard and have a high level of commitment to the success of the company.
3.3. Winning in China was key for Alibaba's success, and Ma worked hard to beat out eBay to get on top in that market.
3.3.1. It's the early 2000s and the company is still trying to make its mark on the retail market.
3.3.2. But their "villain" that helped them eventually triumph turned out to be eBay.
3.3.3. eBay's first move was to buy the company that controlled 90% of China's online consumer-to-consumer business.
3.3.3.1. They rebranded it to EachNet
3.3.4. Jack Ma built a subsidiary of Alibaba called Taobao which targeted the same customers as eBay.
3.3.5. He managed to keep Alibaba's ownership of Taobao a secret in the first four months of its launch.
3.3.6. He knew what appealed to the Chinese market and used clustered displays and graphics on his site.
3.3.7. Making the pages westernized proved to be eBay's downfall.
3.3.8. When they moved the service to a US host in 2004, that was the end.
4. Who would I recommend the Alibaba summary to?
4.1. The 51-year-old business-woman who likes uplifting stories that motivate her to keep working hard, the 32-year-old who came from next to nothing but wants to be an entrepreneur and improve the world, and anyone who likes getting inspiration from a rags to riches story.