An instructional model for web-based e-learning education with a blended learning process approach
by CAMILA ANDREA REYES MELENJE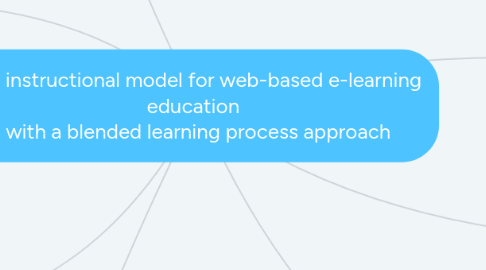 1. content structure: orig info into a conceptual framework, develop coherent info.
1.1. cognitive process: how the minds work, transfor info received in memory into knowledge
1.1.1. collaborative actvty: interacting with the content and by group
2. The use of new multimedia technologies and the Internet to improve the quality of learning
2.1. It facilitate the access to resources and services, as well as remote exchange and collaboration
3. Learning is not a single activity; it includes at least three different stages:
3.1. Accretion is the insertion of knowledge into established structures.
3.2. Restructuring is the formation of new conceptual structures suited to the knowledge
3.3. Tuning involves making this knowledge efficient, that is, progressing from the unsure and anxious state of the learner to the serene and experienced skill of the expert.
4. It is not enough to understand and learn a subject. When a subject has been learned, it should be used.
5. Inspiration of differents approach
5.1. approach: something natural way to start a procceso of aqur. info.
5.2. eclectic views: select from the differents learing methods the best part to combine
6. knowledge: everyone get knowlege in a dffrn way
6.1. contect structre-- cognit proccess -- collaboraty act.
7. Definition