How ID and Project Management Relate
by Amber Hall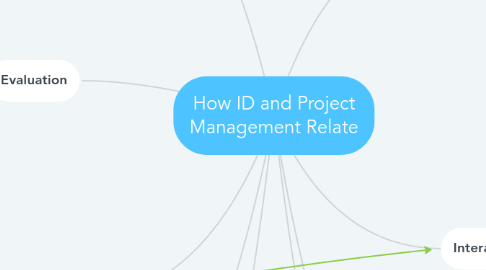 1. Design
1.1. Develop a methodology
1.1.1. Determine how you would like to execute the project.
1.1.2. Decide what ID model you will use based on goals and objectives.
1.2. Design the workflow
1.2.1. Develop a Work Breakdown Structure
1.3. Design the calendar, and timeline
1.3.1. Establish effort needed for the project
1.3.2. Establish duration of project.
2. Development
2.1. Develop artifacts
2.1.1. Prototypes, documents, and other items needed to complete the project.
2.1.1.1. Project charter
2.1.1.2. Project cost sheet
2.1.2. Determine what needs to created be created and why.
2.1.2.1. Initial Report
2.1.2.2. Develop the performance gap
2.2. Develop reports
2.2.1. Needed to update Stakeholders, Sponsors and Clients involved/funding the project.
2.2.1.1. Progress Report
2.3. Develop deliverables
2.4. Develop contracts
2.4.1. Between Stakeholders, Clients, and Others involved in the project.
2.4.1.1. Determine whether you are internal or external
3. Evaluation
3.1. Evaluate before project starts
3.1.1. Conduct a formative evaluation
3.1.2. Conduct a summative evaluation
3.2. Evaluate during the project
3.2.1. Progress Report
3.3. Evaluate after the project is done
3.3.1. Develop a "Post-Mortem" Report
3.4. Evaluate instruction needed to solve performance/learning gap.
4. Interaction with Clients
4.1. Develop rapport with the clients involved
4.1.1. SME's
4.1.2. Stakeholders
4.1.3. Sponsors
4.2. Analyze clients to add to initial report
4.3. Handle scope changes
5. Interaction with Stakeholders
5.1. Gain approval of deliverables
5.2. Gain approval of initial report
5.2.1. Establish goals and objectives.
5.2.2. Gain appoval of goals and objectives
5.3. Gain approval of final report
5.3.1. Create the "Post-Mortem" Report
5.4. Establish a cost estimate
5.5. Handle scope changes
5.6. Gain approval of prototypes, artifacts, and documents.
5.7. Provide resources for the project
6. Interaction with Subject Matter Experts (SME's)
6.1. Use them to develop the project goals, objectives and overall plan.
6.1.1. Incorporate feedback and changes
6.2. Develop expertise you need
6.3. Gather the data needed to create the initial report
7. Use of projects
7.1. To solve problems in an organization
7.1.1. That require more time and effort
7.2. To make change to processes or workflow
7.2.1. Could be permanent or temporary change.
7.3. Dissolve a performance gap
7.4. Dissolve a learning gap
8. Incorporate Multiple People for the Project
8.1. Decide who is responsible and who should be held accountable.
8.2. Establish duration of project
8.3. Establish effort needed for the project
9. Analyze
9.1. Data
9.1.1. Compile data for report
9.2. Tasks
9.2.1. Complete Task Analysis
10. Key: Orange = Instructional Design (ID) Beige = Project Management Blue = Both ID and Project Management
10.1. Key: Orange = Instructional Design (ID) Beige = Project Management Blue = Both ID and Project Management
11. These relate and are interchangable
12. These relate and are interchangable