Chickens
by Nick B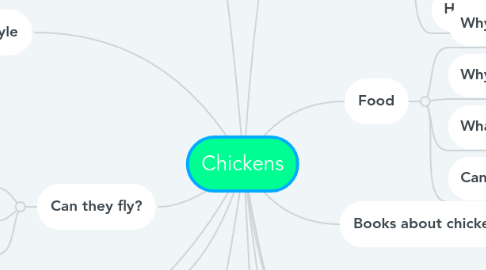 1. Life cycle
1.1. How long do they live
1.2. What happens inside the egg
1.3. How many eggs do they lay
1.4. How often do they lay eggs
1.5. Simulation
1.6. How long before they hatch
1.6.1. Development of a body
1.6.1.1. Body parts
2. Food
2.1. Why do we eat them
2.2. Why do we eat eggs
2.3. What do chickens eat
2.4. Canadas food guide
3. Apperance
3.1. Feathers
3.2. Shape of eggs
3.3. Size of chickens
3.4. Male and Female
3.4.1. Reproduction
3.4.2. Hen and Rooster
3.5. How they walk
3.5.1. Body functions
3.6. Can they fly
3.6.1. Body functions
3.7. Colours of Chickens
3.8. Colours of eggs
3.9. Spots on the eggs
3.10. Rooster crown
4. Lifestyle
4.1. Where do they live
4.2. What do they eat
4.3. How long do they sleep
4.4. Do they bite
4.5. Can they fly over the fences?
4.6. What do they do in the winter
5. The chicken dance
6. Books about chickens
7. Do they bite
8. Where do they sleep
8.1. What are the red lights in the coop
8.2. How to build a coop
8.3. Who built the coop
8.4. Importance of sleeping patterns
8.5. Pyjama day
9. Can they fly?
9.1. Who built the fence
9.2. What is the fence made of
9.3. How to build a fence
10. Chicken sounds
10.1. Crowing in the morning
11. Types of chickens
12. How they feel
13. Incubators