EUROPEAN UNION
by Ixone Mintegui Valmaseda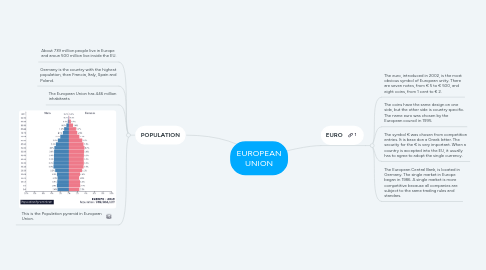 1. EURO
1.1. The euro, introduced in 2002, is the most obvious symbol of European unity. There are seven notes, from € 5 to € 500, and eight coins, from 1 cent to € 2.
1.2. The coins have the same design on one side, but the other side is country specific. The name euro was chosen by the European council in 1995.
1.3. The symbol € was chosen from competition entries. It is base don a Greek letter. The security for the € is very important. When a country is accepted into the EU, it usually has to agree to adopt the single currency.
1.4. The European Central Bank, is located in Germany. The single market in Europe began in 1986. A single market is more competitive because all companies are subject to the same trading rules and standars.
2. POPULATION
2.1. About 739 million people live in Europe and aroun 500 million live inside the EU.
2.2. Germany is the country with the highest population, then Francia, Italy, Spain and Poland.
2.3. The European Union has 446 million inhabitants
2.4. This is the Population pyramid in European Union.