Widening Learning Gaps and Food Insecurity during the COVID-19 Pandemic: What Can Be Done?
by Sally BERGER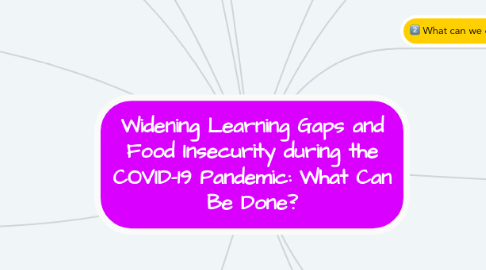 1. Who
1.1. Historically marginalized groups
1.2. Low-income families where priority is on survival
1.3. Those without internet access
1.4. Homes where English is a second language
1.5. Students with disabilities, who get the majority of structure/learning from face-to-face contact
2. What can we do
2.1. Create multiple hotspots in the county?
2.2. Consider national legislation making student wifi access a priority
2.3. Figure out a way for students to have free internet access during school hours
3. Why
3.1. Low-income families - no wifi at home
3.2. Unable to access free internet because of shutdowns at library/restaurants
4. What can we do
4.1. Create 'sister schools' to set up pen pals with students in other countries in their grade level. This could be good brainstorming for older kids to solve future problems in their own communities. They may learn from one another. This can be done using letters, and without internet.
5. Level of impact in relation to the U.S.
5.1. higher poverty rates tend to have higher impact rate due to lack of resources
5.2. Education gap because Virtual Learning is not an option
5.3. more susceptible to violence because students are not at school in a safe environment
6. What can we do
6.1. Organize food drop off's - use school buses to deliver
6.2. Look at installing food pantries
6.3. Food drives for school families
6.4. Contact local grocery stores to partner to create care packages
7. Why
7.1. low-income families have no access to free/reduced price lunches.
7.2. Students do not have rides to school for "grab & go" food pick ups
8. What can we do
8.1. Offer one-on-one assessment/tutoring regularly
8.2. Look at test scores. Focus on low areas and zoom calls/paper packets. Talk to admin about delivery of supplies if it's an issue.
8.3. Make sure lines of communication/open dialogue with adults. Be sure to maximize the time that you actually get with the student.
8.4. Get to know the student. Look into "I wish my teacher knew...", "I wish my child's teacher knew..." writing prompts
8.5. Make sure we are aware of possible biases and make sure every child is centered on. Tailor to their ways of learning.
9. Internet Access
10. Food Insecurity
11. Focus on who is failing
12. Impact on other countries
13. Why
13.1. Lack of assignment help at home
13.2. When all adults in the household work to make ends meet, there may not be much time to focus on school work. Food and shelter may be their priority.
13.3. Systemic oppression that has made equity tougher for certain groups