ORAL LANGUAGE (Chapter 4)
by Jessica Galizia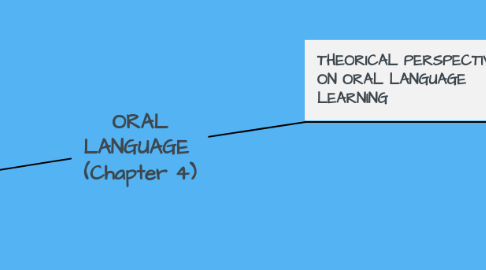 1. THEORICAL PERSPECTIVES ON ORAL LANGUAGE LEARNING
1.1. BEHAVIOURIST (SKINNER) (pp. 72-73)
1.1.1. Learning is largely shaped by the environment and personal experiences (Nurture)
1.1.1.1. Language learning requires an environment rich with experiences. Consistent reinforcement is also required to ensure behaviours are imitated. Deliberate or unintended adult modelling.
1.1.1.1.1. OPERANT CONDITIONING - EXPRESSIIVE LANGUAGE
1.1.1.1.2. CLASSICAL CONDITIONING - RECEPTIVE LANGUAGE
1.2. NATIVIIST (CHOMSKY) (p. 74)
1.2.1. Language acquisition is a biological phenomenon (Nature)
1.2.1.1. The human brain is structured to acquire and use language. This is illustrated by its capacity to create and understand syntactic systems or grammatical rules
1.2.1.2. LANGUAGE ACQUISITION DEVICE (LAD)
1.2.1.3. UNIVERSAL GRAMMAR
1.2.1.4. People's capacity to learn their native language is limited to a critical period.
1.3. MATURATIONAL (p. 75)
1.3.1. Language learning is based on biological readiness (Nature)
1.4. COGNITIVE DEVELOPMENTAL (PIAGET) (pp. 75-76)
1.4.1. Language development occurs in tandem with cognitive development. Children construct their own understanding through interactions with the environment and participation in various experiences, including social ones. Both environment and heredity play a part in language development. (NURTURE AND NATURE)
1.4.1.1. THREE STAGES OF COGNITIVE DEVELOPMENT
1.4.1.1.1. SENSORIMOTOR (0 TO 2YEARS)
1.4.1.1.2. PRE-OPERATIONAL (2 TO 7. YEARS)
1.4.1.1.3. CONCRETE OPERATIONAL (7 TO 11/12 YEARS)
1.4.1.2. Children cannot develop language unless they have developed/constructed necessary conceptual knowledge about the world.
1.5. SOCIAL INTERACITONS (VYGOSTKY & BRUNER) (pp. 76-77)
1.5.1. Language is learned and developed though children's interactions with significant people in their environment.
1.5.1.1. LANGUAGE ACQUISITION SUPPORT SYSTEM (LASS) - BRUNER
1.5.1.2. SCAFFOLDING
1.5.1.2.1. More knowledgeable person supports a learner to do what s/she could not do without support
1.5.1.2.2. ZONE OF PROXIMAL DEVELOPMENT (VYGOTSKY)
1.5.1.3. CHILD DIRECTED SPEECH (CDS)
1.5.1.4. ROLE OF PLAY
1.5.1.4.1. Language development is seen within a social context and that's why the role of play is highlighted..
1.6. NEUROBIOLOGICAL (p. 77)
1.6.1. The brain is structured to learn language, but effective language learning also depends on social interaction and occur within communicative context.
2. PHASES, STAGES AND MILESTONES OF ORAL DEVELOPMENT (p.79)
2.1. NEWBORN
2.2. 2 TO 3 MONTHS
2.3. 4 TO 6 MONTHS
2.4. 7 TO 12 MONTHS
2.5. 12-24 MONTHS
2.6. 24-36 MONTHS (2 TO 3 YEARS)
2.7. 36-48 MONTHS (3 TO 4 YEARS)
2.8. 48-60 MONTHS (4 TO 5 YEARS)
2.9. 60-72 MONTHS (5 TO 6 YEARS)
2.10. 6 TO 8 YEARS