How to be successful
by
Sabine Maria Steiner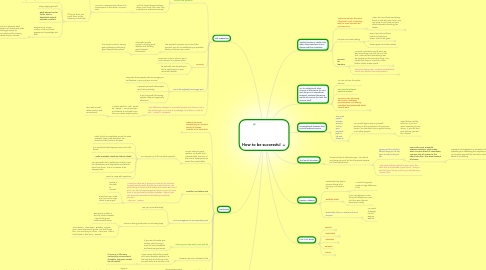 5.0
stars -
2
reviews range from
0
to
5
How to be successful
Wishes become a reality only, when they transform into a desire and then intention
Wishes come from the mind. If the heart is not in harmony with the mind this wish will not come true
Life plan and Goal setting
Prepare for lag-time
Try to understand, what success in life means for you. Not always it is something material. Material things are results of success, but not the success itself
We can not aim the public success
You have to find your personal success
Success is also achieving self-control, defeating procrastination and feeling motivated and passionate about life and work
Self suggestion
How do you think about yourself? Do you like yourself?
The simplest example: if you don't like yourself, you act unconfidently, you question each you decision you make
Sincerity
Don't let anybody discourage you!
"The difference between a successful person and others is not a lack of strength, not a lack of knowledge, but rather in a lack of will." Vincent T. Lombardi
Hard work
Nobody achieved success lying on the bed. Secret of success consists in the hard work
Human makes a great mistake. He thinks, that unpredictable scenario of the events development is worse than predictable
Double your failure rate
Time management is an important point
Planning your day, week, year and life
Likewise, you are a student of life
To be the best, you must provide the best service
Outside the comfort zone
Unconditional knowing that you will achieve success
The most import success secret is to find your personal path in life and follow it!
The law of attraction
The secret law of attraction says: 'You attract and bring into your life the things and objects you think about most
Having a change
Realize that the way to achieve things is by having a CHANGE in life
Butterlfly effect
Remember, life is a Miracle and not a surprise
S M A R T goals
Specific
Measurable
Attainable
Relevant
Timely
Neue Idee