Brainstorming Webs for the Creative Mind
by Megan Mullen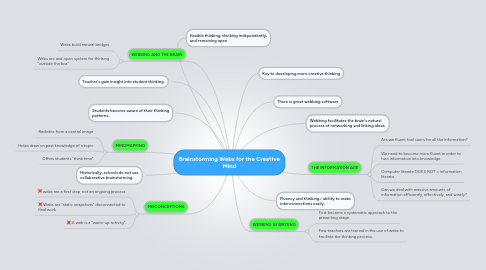 1. Webbing facilitates the brain's natural process of networking and linking ideas.
2. THE INFORMATION AGE
2.1. Are we fluent tool users for all the information?
2.2. We need to become more fluent in order to turn information into knowledge.
2.3. Computer literate DOES NOT = information literate
2.4. Can we deal with massive amounts of information efficiently, effectively, and wisely?
3. Historically, schools do not use collaborative brainstorming.
4. WEBBING IN WRITING
4.1. First became a systematic approach to the prewriting stage.
4.2. Few teachers are trained in the use of webs to faciliate the thinking process.
5. Fluency and thinking= ability to make interconnections easily.
6. Students become aware of their thinking patterns.
7. Teacher's gain insight into student thinking.
8. WEBBING AND THE BRAIN
8.1. Webs build natural bridges
8.2. Webs are and open system for thinking "outside the box"
9. MISCONCEPTIONS
9.1. webs are a first step, not an ongoing process
9.2. Webs are "static snapshots" disconnected to final work
9.3. A web is a "warm-up activity"
10. flexible thinking, thinking independently, and remaining open
11. Key to developing more creative thinking
12. There is great webbing software
13. MINDMAPPING
13.1. Radiates from a central image
13.2. Helps draw on past knowledge of a topic
13.3. Offers students "think time"