CİNDİRELLA Uchronia Alternatif Hikayesi
by NESLİHAN GÜNDÜZ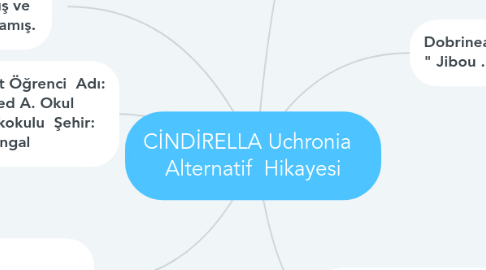 1. Sindirellanın ailesi aslında ölmemiş.Cadı sadece onları bir peri evinde tutsak tutuyormuş.Prenses ile prens mutlu bir şekilde evlenince büyü bozulmuş ve sindirellanın aileside ordan kurtulmuş.Saray da yeniden kutlamalar başlamış.
2. Ayla Öğrt.Öğrencisi Adı:.Hilal K . Okul:.Gaziemir Sabiha Gökçen İlkokulu Şehir :İZMİR
2.1. Cam ayakkabının sahibini bulamayan prens üzgün bir şekilde geri döner. Olanları gören iyilik perisi Cindorellayı prensin şatosuna götürür . Prens ve Cinderella kavuşup mulubir şekilde yaşarlar.
2.2. Unable to find the Prince returns to his palace sandly. Learning what happenet , the fairry godmother tales Cinderella to the princes chapel . Prince and Cindirella Mert andlive happliy.
3. Dobrinean Ligia ,,Lucian Blaga " Jibou ..Romanian
3.1. For the Cinderella to be treated like her sisters.
3.2. English
4. Neslihan ÖĞRT.Öğrenci Adı:Elif H. Okul:Cenap Şahabettin Primary School Şehir:İstanbul
4.1. Prens prensesi şatoya götürmeye çalışırken bir dilenci onlardan para ister. Prens ve prenses para isteğini geri çevirir. Bunun üzerine prenses kaçırılır , prens hayatının sonuna kadar onu arar sonsuza kadar.
4.2. When prince was tying to take away princess to castle,they meet with beggar. Beggar asked money. They refused her wish. Thereupon, princess was abducted, princes has been looking for her forever
5. Fatih Öğrt Öğrenci Adı: Muhammed A. Okul Atatürk İlkokulu Şehir: Sivas / Kangal
5.1. Külkedisi'nin ailesi aslında ölmedi. Cadı onları sadece bir peri evinde tutsak etti . Prenses ve prens mutlu bir şekilde evlendiklerinde, büyü bozuldu ve Külkedisi'nin ailesi bundan kurtuldu . Sarayda kutlamalar yeniden başladı..
6. Dan Teacher Student Name:.............School...............Country
6.1. What would you want to change?........................
6.2. English...................