Fethiye Şehit Yüzbaşı Özgür Özekin MTAL's SWOT ANALYSIS "STRENGTHS"
by swot students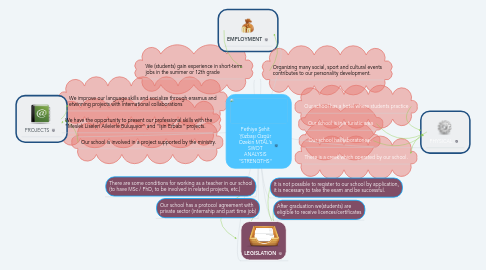 1. Organizing many social, sport and cultural events contributes to our personality development.
2. We improve our language skills and socialize through erasmus and etwinning projects with international collaborations
3. There are some conditions for working as a teacher in our school (to have MSc / PhD, to be involved in related projects, etc.)
4. We (students) gain experience in short-term jobs in the summer or 12th grade
5. After graduation we(students) are eligible to receive licences/certificates
6. We have the opportunity to present our professional skills with the "Meslek Liseleri Ailelerle Buluşuyor" and "İşin Erbabı" projects.
7. Our school is in a turistic area
8. There is a private beach which operated by our school.
9. Our school has a hotel where students practice
10. Our school has laboratories.
11. It is not possible to register to our school by application, it is necessary to take the exam and be successful.
12. Our school is involved in a project supported by the ministry.
13. Our school has a protocol agreement with private sector (internship and part time job)
14. PHYSICAL
15. PROJECTS
16. EMPLOYMENT
17. LEGISLATION