Gaurav Gawde Performance Review FY 2020-21
by G. R. Gawde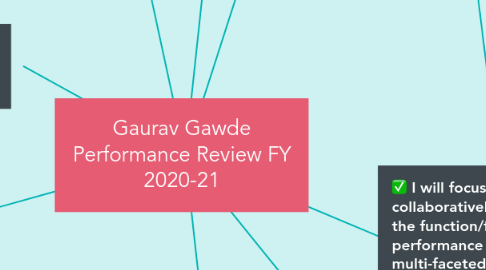 1. Enhance my communication and presentation skills to progress my ability to lead on client engagements and add greater value to client relationship.
1.1. RIL - Better relationship with client SPOCs
1.2. LTI (IR)
1.3. Rubamin
1.4. Ghana Cocoa Board
1.5. Cocoa Touton
2. Understand client's business issues / challenges and bring insights and ideas that create value for them.
2.1. Activities done for Reliance Jio 19 20 assurance, which lead to SBT opportunity
3. Client Feedback
3.1. RIL
3.2. ABFRL
3.3. KPMG Ghana
3.4. Rubamin
3.5. IndusInd
4. Enhance personal relationships with KPMG alumni to help build both my personal brand and KPMG's brand, Connect with individuals, teams and organizations to build lasting, collaborative relationships that enable firm-wide growth
4.1. I have increased my visibility in India team
4.2. I have also made connections in KPMG member firm network through my work
4.3. My involvement in KPMG Impact - Future Leaders Council.
5. Business Development
5.1. Repeat engagements due to good quality work
5.1.1. Rubamin implementation roadmap
5.2. Additional work due to demonstration of superior technical knowledge
5.2.1. IBL advisory
5.2.2. LTI
5.2.2.1. CDP Advisory
5.2.2.2. Climate Risk Assessment
5.2.2.3. Carbon Pricing
5.3. Strengthen my knowledge of KPMG's service offerings to better serve clients and build meaningful and trusted relationships with them.
5.3.1. Reliance Jio - SBT (Scope 3)
5.3.2. Lead generations and ability to get the foot in the door
5.3.2.1. KPMG Finland
5.3.2.1.1. Scope 3 Inventory for Fortum
5.3.2.1.2. GRESB engagement for CapMan (Prospective)
5.3.2.2. KPMG Nigeria
5.3.2.2.1. Assistance in ESG EOI
5.3.2.2.2. Which lead to inquiry regarding ESIA RFP
5.4. Development of EOIs and RFPs for WB, ADB and UNDP projects
6. Strengthen my professional and community relationships and position myself as a key influencer in Climate Change Space
6.1. I have been selected as a contributor for Climate Change and Decarbonization proposition for FLC in KPMG Impact
7. I will focus on working collaboratively within and across the function/firm to drive high performance and deliver multi-faceted business solutions and valued client service.
7.1. I took a responsibility to engage with Markets team for design of LTI SR and LTI IR designed report development
7.2. I worked with Delhi team in development of multiple proposals and RFPs for various clients throughout the year.
8. I will take ownership of my development and career, demonstrating learning agility and challenging myself and others to improve.
8.1. Certification in Sustainable Finance
8.2. Better understanding of the process of setting SBT for telecom sector.
8.3. Completion of TCFD training