Curriculum Mapping 2nd Grade Reading
by Brittany McRae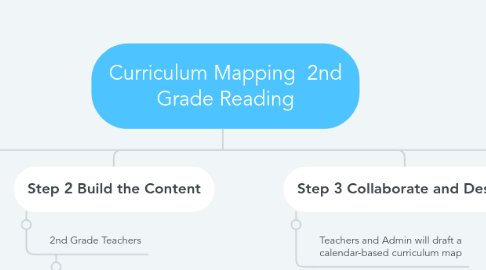 1. Step 1 Gather Information
1.1. Research and collect data
1.1.1. Teachers and administration gather and analyze student and parent feedback, assessments, and state/national education standards.
2. Step 2 Build the Content
2.1. 2nd Grade Teachers
2.1.1. Assign standards and break content into projects/activities
2.1.1.1. Create assessments
3. Step 3 Collaborate and Design
3.1. Teachers and Admin will draft a calendar-based curriculum map
4. Step 4 Evaluate
4.1. Teachers and Admin will analyze the curriculum map, give feedback and make revisions.