Giving a Patient a Bed Bath
by Jadey Wood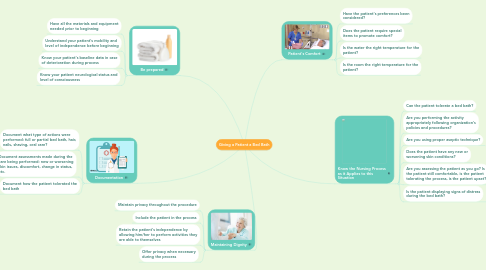 1. Patient's Comfort
1.1. Have the patient's preferences been considered?
1.2. Does the patient require special items to promote comfort?
1.3. Is the water the right temperature for the patient?
1.4. Is the room the right temperature for the patient?
2. Maintaining Dignity
2.1. Maintain privacy throughout the procedure
2.2. Include the patient in the process
2.3. Retain the patient's independence by allowing him/her to perform activities they are able to themselves
2.4. Offer privacy when necessary during the process
3. Be prepared
3.1. Have all the materials and equipment needed prior to beginning
3.2. Understand your patient's mobility and level of independence before beginning
3.3. Know your patient's baseline data in case of deterioration during process
3.4. Know your patient neurological status and level of consciousness
4. Know the Nursing Process as it Applies to this Situation
4.1. Can the patient tolerate a bed bath?
4.2. Are you performing the activity appropriately following organization's policies and procedures?
4.3. Are you using proper aseptic technique?
4.4. Does the patient have any new or worsening skin conditions?
4.5. Are you assessing the patient as you go? Is the patient still comfortable, is the patient tolerating the process, is the patient upset?
4.6. Is the patient displaying signs of distress during the bed bath?
5. Documentation
5.1. Document what type of actions were performed: full or partial bed bath, hair, nails, shaving, oral care?
5.2. Document assessments made during the care being performed: new or worsening skin issues, discomfort, change in status, etc.
5.3. Document how the patient tolerated the bed bath