RISK TAKING "If you can see a way when everybody says there's no way - Know that you have an extra-ordinary spirit to do the impossible." Written in 2008 by Mpho Shoroma --- South Africa
by
Jamie Ferrante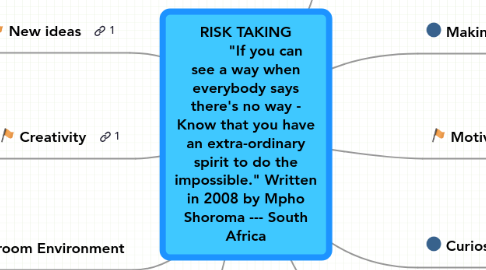 0.0
stars -
0
reviews range from
0
to
5
RISK TAKING "If you can see a way when everybody says there's no way - Know that you have an extra-ordinary spirit to do the impossible." Written in 2008 by Mpho Shoroma --- South Africa
Making choices
Identify goal
Identify ways to achieve goal
Identify possible results of choices
Implement one option
Decide if goal was achieved
Make adjustments
Choose activities that require creativity
Have students participate in learing experiences that encourage creative answers to problems. Encourage discussion.
Curiosity
Encourage questions
The teacher should encourage students to move beyond basic questioning towards asking "Why?"
Encourage "spontaneous inquiry"
Learning that is relevant and meaningful will spark a student's interest. If working on a project or assignment, and a student "wonders" about another idea or topic, he or she should be encouraged to investigate further.
Classroom Environment
Encourage failure
Encouraging failure means that students are not afraid to try new things. Failure is "considered a path to success" (Bretag 2008). The teacher makes it clear that not every learning experience can be easily solved, and that the answers are not always right or wrong.  
High expectations
Students are expected to achieve to the best of their ability. If mistakes are made, students are expected to move forward and continue learning. A teacher makes it clear that failures will occur, but such failures will serve to improve learning. Encourage students to "tackle challenging tasks." (NCREL & Metiri Group, 2008)
Willingness to try
Despite the perceived consequences to "going out on a limb," students are encouraged to try in their learning. Students are taught not to belittle or ridicule others' attempts at learning.
Create a "culture of innovation"
The teacher models this behavior and students have opportunities to practice being innovative. Teachers can model innovation by utilizing new strategies and methods in their instruction. The teacher will openly discuss their attempts at these new ideas, and discuss successes and failures.  At this time, it is important for the teacher to also point out what is gained and what is lost by making the attempt.  If the losses seem too costly, it is important to point out that nothing would have been achieved if no one had taken the risk.
Encourage intrinsic motivation to learn
Encourage intrinsic rewards
Management Skills
Organization
Teach students how to remain organized so that they may focus more on the "why" and "how" of a learning experience, rather than the "where." (i.e. where is my assignment?)