FMP: PINKFIZ EP
by Isabelle Martin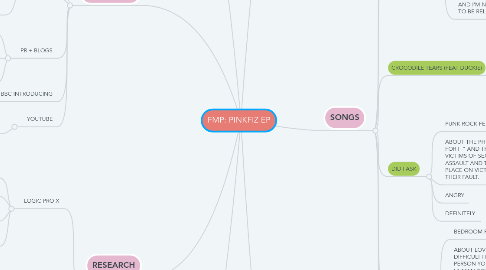 1. DATES
1.1. RELEASE - 26TH MAY
1.1.1. SENT TO DISTRUBUTORS BY 12TH MAY
1.2. DID I ASK RELEASE - 26TH MARCH
1.2.1. SENT TO DISTRIBUTORS BY 12TH MARCH
1.3. CROCODILE TEARS RELEASE - 23RD APRIL
1.3.1. SENT TO DISTRIBUTORS BY 2ND APRIL
1.4. YOUR GIRL RELEASE - 14TH FEBRURARY
1.4.1. SENT TO DISTRiBUTORS BY 1ST FEBRUARY
2. SONGS
2.1. PLEASER
2.1.1. POP PUNK ROCK SONG
2.1.2. ABOUT MY NEED TO CONSTANTLY PLEASE PEOPLE AND CHANGING MYSELF TO MATCH OTHER PEOPLE'S NEEDS INSTEAD OF MY OWN AND REALISING THAT I DID ALL OF THAT AND THOSE PEOPLE DIDN'T ACTUALLY LIKE ME AND WERE JUST USING ME
2.1.3. ANGRY/SAD
2.1.4. DEFINITELY
2.2. GHOST TOWN
2.2.1. ROCK SONG
2.2.2. ABOUT ME HATING PETERBOROUGH AND ACKNOWLEDGING THAT UNTIL I LEAVE THE TOWN, MY PAST SELF WILL ALWAYS HAUNT ME, ALSO A TRIBUTE TO ME MOVING TO LONDON IN SEP/DEC
2.2.3. SAD
2.2.4. MAYBE - THIS SONG IS A MAYBE BECAUSE I WANT TO WAIT FOR IT TO BE FULLY COMPLETED BEFORE I DECIDE IF IT'S AN EP SONG. ITS QUITE PERSONAL AND I'M NOT SURE IF I'M READY FOR IT TO BE RELEASED YET.
2.3. CROCODILE TEARS (FEAT DUCKIE)
2.3.1. CHEESY POP ROCK
2.3.2. ABOUT THE END OF A FRIENDSHIP AND THE REALISATION OF EVERYTHING I'VE PUT UP WITH AND HOW EASILY I WAS WALKED ALL OVER
2.3.3. ANGRY
2.3.4. DEFINITELY
2.4. DID I ASK
2.4.1. PUNK ROCK FEMINIST VIBEZ
2.4.2. ABOUT THE PHRASE "SHE WAS ASKING FOR IT" AND THE INVALIDATION OF VICTIMS OF SEXUAL ABUSE AND ASSAULT AND THE BLAME THAT PEOPLE PLACE ON VICTIMS WHEN IT'S NOT THEIR FAULT.
2.4.3. ANGRY
2.4.4. DEFINITELY
2.5. YOUR GIRL?
2.5.1. BEDROOM POP
2.5.2. ABOUT LOVE IN LOCKDOWN AND HOW DIFFICULT IT IS NOT TO SEE THE PERSON YOU LOVE AND THE NEED FOR HUMAN CONTACT AND THE NEED TO PHYSICALLY BE WITH THE PERSON YOU LOVE THE MOST
2.5.3. SAD MEANING BUT HAPPY DANCEY VIBES
2.5.4. MAYBE - I'M NOT SURE IF THIS SONG WILL FIT WITH THE REST OF THE EP. IT'S QUITE POPPY COMPARED TO THE OTHERS AND I'M JUST NOT SURE IT WILL SOUND GOOD AS PART OF THIS COLLECTION.
2.6. CHERRY BLOSSOM
2.6.1. ROCK
2.6.2. ABOUT - NOT SURE YET BUT I'VE WRITTEN THE INSTRUMENTAL AND I REALLY VIBE WITH IT.
2.6.3. ANGRY/HAPPY
2.6.4. MAYBE - I LOVE THE SONG BUT I CAN'T FULLY INVEST IN IT UNTIL I FIGURE OUT THE LYRICS AND MEANING BEHIND IT.
3. RESOURCES
3.1. RECORDING SOFTWARE
3.1.1. LOGIC PRO X
3.2. GUITARS
3.3. MICROPHONE
3.4. BASS
3.5. MIDI KEYBOARD
3.6. LAPTOP
3.7. ACCESS TO INTERNET
3.8. DAW
3.9. KEMPER AMP
3.10. CABLES
3.11. MICHAEL
3.12. CAMERA
4. MARKETING
4.1. INSTAGRAM
4.1.1. EDST
4.1.2. PROMOTIONS?
4.1.3. HASHTAGS
4.1.4. CREATE CONSISTENT CONTENT THROUGHOUT THE MAKING OF EP NOT JUST WHEN IT COMES OUT
4.1.5. MAKE SURE IT LOOKS GOOD, CREATE A THEME SO IT LOOKS PROFESSIONAL
4.2. SPOTIFY
4.2.1. CONTACT PLAYLISTERS
4.2.2. MAKE AVAILABLE FOR PRE-SAVE
4.2.3. SEND TO SPOTIFY EDITOR PLAYLISTS
4.3. PR + BLOGS
4.3.1. EMAIL AND DM
4.3.2. SEARCH FOR RELEVANT BLOGS AND FAIRLY SMALL BLOGS
4.3.3. CREATE PRESS PACK WITH MENTOR TO SEND TO MAGAZINES AND BLOGS
4.4. SUBMIT TO BBC INTRODUCING
4.5. YOUTUBE
4.5.1. CREATE SOME FORM OF VIDEO CONTENT (EVEN JUST A STILL PICTURE WITH AUDIO)
5. RESEARCH
5.1. LOGIC PRO X
5.1.1. ONLINE COURSES ON MACPROVIDEOS.COM
5.1.2. WATCH TUTORIALS ON YOUTUBE
5.1.3. MIXING AND MASTERING ARE KEY THINGS TO LEARN
5.1.4. PRIMARY TRIAL AND ERROR RECORDING METHODS MYSELF
5.2. YOUTUBE
5.2.1. GENIUS INTERVIEWS FOR INSPIRATION ON SONGWRITING
5.2.2. WATCH PRODUCTION VIDEOS OR HOW TO SOUND LIKE... VIDEOS TO OBSERVE TECHNIQUES
5.2.3. RICK BEATO VIDEOS
5.2.4. INTERVIEWS WITH FINNEAS O CONNEL
5.2.5. MIX WITH THE MASTERS CHANNEL
5.2.6. ANY INTERVIEWS WITH ARTISTS
6. INSPIRATION
6.1. PRODUCTION
6.1.1. FINNEAS O CONNEL
6.1.2. RICK BEATO
6.1.3. JOSHUA HOMME
6.2. PERFORMANCE
6.2.1. ep inspo 🙊
7. PINKFIZ BRAND
7.1. ALTER EGO
7.1.1. STILL IZZY AND MY EXPERIENCES BUT PINKFIZ IS THE PERFORMER AND THE IMAGE.
7.1.2. PINK WIG
7.1.3. PINK COW HAT
7.1.4. PINK, PURPLE, BLUE, BLACK AND WHITE
7.2. MESSGAE
7.2.1. GIRL POSITIVITY
7.2.2. ACTIVIST FOR EQUALITY
7.2.3. I WANT TO CREATE A SAFE SPACE FOR EVERYONE TO ENJOY THEMSELVES AND LIVE THEIR BEST LIVES
7.2.4. ITS OKAY WHEN YOU'RE NOT OKAY, HERE'S SOME MUSIC TO HELP YOU GET THROUGH IT LET'S BE IN THIS MOMENT TOGETHER
7.3. PINK IS TO REPRESENT MY PRIDE IN BEING A WOMAN AS PINK IS USED TO STEREOTYPE GIRLS AND WOMEN, I AM TAKING THAT COLOUR AND TURNING IT INTO WHAT I WANT IT TO MEAN. AND I THINK IT REPRESENTS POWER AND STRENGTH.