OBJECTIVE: Students will be able to orally respond to a request for directions to a specific location.
by Neemah Naveed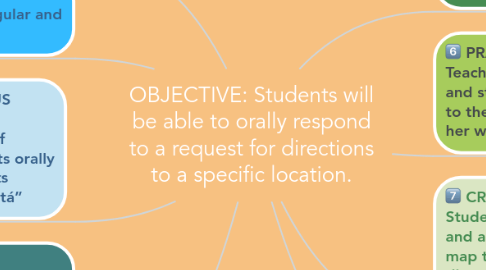 1. NEW CONTENT: Basic directions: todo recto, a la derecha, a la izquierda, opuesto de, enfrente de, detrás de
2. PREVIOUS KNOWLEDGE: ESTAR: 3rd person singular and plural, Present Tense
3. REVIEW OF PREVIOUS KNOWLEDGE: Teacher shows images of emotions & asks students orally "¿Cómo está?". Students respond orally using "está"
4. PRESENTATION: Teacher places 4 students at four points of the classroom. Teacher stands in the middle of the classroom, points to each student and states the direction in Spanish. Eg. David está enfrente de la clase.
5. CHECK: Teacher asks the 4 students to rearrange their positions and calls out some directions and asks the class whether the statement is Verdadero or Falso.
6. PRACTICE: Teacher provides a map maze and students provide directions to the teacher to help her find her way out of the maze.
7. CREATIVE PRACTICE: Students are put into groups of 4 and are given maps. On their map they are asked to provide directions from one specific point to three other points on the map.
8. EVALUATION: 5 Oral Situational Responses.