Indigenous situation in Colombia
by SARA JULIANA HIGUITA ZULETA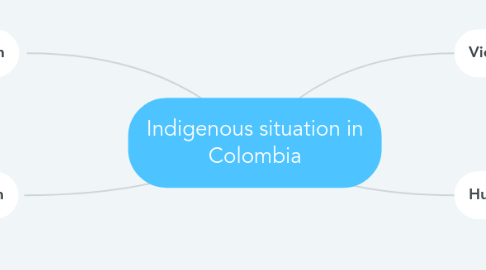 1. Violence
1.1. Triggered by the clashes of illegal armed groups
2. Human rights
2.1. After the signing of the Peace Accords between the State and the FARC, there has been an unprecedented crisis among indigenous communities that has triggered human rights violations such as assassinations, threats, persecution, displacement, confinement, and the recruitment of minors.
3. Social exclusion
3.1. It is common in Colombia that non-indigenous people are not aware of who the peoples who have ancestrally inhabited the national territory are and how they live. Consequently, the wealth of their knowledge, their cultural customs and their spiritual significance, which are of vital importance for their existence, as stated in their Law of Origin, is unknown.
4. Political exclusion
4.1. la falta de voluntad política del gobierno para implementar grandes programas y proyectos que resuelvan los problemas de fondo de las comunidades indígenas.