Diabetic Foot Ulcers: Diabetic's leg is also known as foot ulcers. It looks like a wound that heals slowly because the blood vessels is harden and the circulation is weaken.
by Kenti Titus Udofia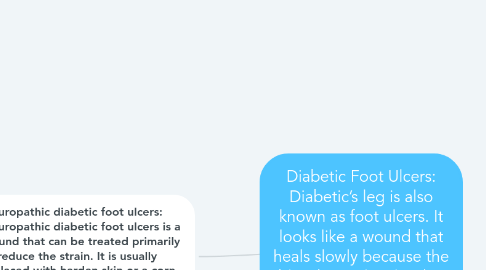 1. Neuropathic diabetic foot ulcers: Neuropathic diabetic foot ulcers is a wound that can be treated primarily to reduce the strain. It is usually replaced with harden skin or a corn. The aids used are cast or therapeutic insoles.
2. Ischaemic diabetic foot ulcers: Ischaemic diabetic foot ulcers usually starts in the ends of toes, in the interspaces between toes, on the outer edge of the foot or in the heel. Its skin is normally thin. Important possibility to remember is the deep inflammations like Osteitis i.e. bone inflammation and the other like cellulitis i.e. soft skin inflammation whose wounds develops complications. Treatment for the wound is normally with a therapeutic insole or a cast but when the wound is deep surround by over 2 cm of cellulitis, it needs treatment from the hospital for more monitoring. And when the patients is feverish, he/she needs hospital care, too.