ENGLISH FOR SPECIFIC PURPOSES (ESP)
by Luisa Garcia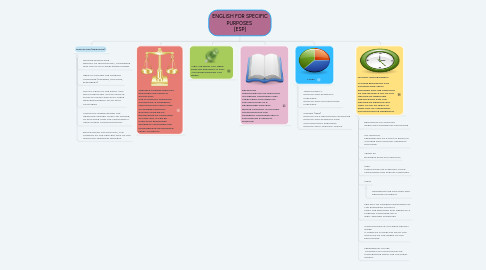 1. TYPES
1.1. TRADITIONALLY ENGLISH FOR ACADEMIC PURPOSES. ENGLISH FOR OCCUPATIONAL PURPOSES.
1.2. CARTER (1983) ENGLISH AS A RESTRICTED LANGUAGE ENGLISH FOR ACADEMIC AND OCCUPATIONAL PURPOSES ENGLISH WITH SPECIFIC TOPICS
2. DEFINITION SPECIALIZATION OF TEACHING IN FOREIGN LANGUAGE THAT START FROM THE NEEDS OF THE INDIVIDUAL IN A DETERMINED CONTEXT, WHOSE CONTENT IS FOCUSED ON DEVELOPING THE DIFFERENT LANGUAGE SKILLS, FOCUSED ON A SPECIFIC PURPOSE.
3. VARIABLE CHARACTERISTICS DESIGNED FOR SPECIFIC DISCIPLINES USE IN SPECIFIC TEACHING SITUATIONS, A DIFFERENT METHODOLOGY FROM THAT OF GENERAL ENGLISH ASSUME SOME BASIC KNOWLEDGE OF LANGUAGE SYSTEM, BUT IT CAN BE USED WITH BEGINNERS GENERALLY DESIGNED FOR INTERMEDIATE OR ADVANCE LEVEL STUDENTS
4. "TELL ME WHAT YOU NEED ENGLISH FOR AND I'LL TELL YOU WHAT ENGLISH YOU NEED"
5. HISTORY AND PROGRESS IN THEIR BEGINNING, THE COURSES AND TEXTS DESIGNED FOR THE TEACHING OF THE IFE HAD A LOT OF THE METHOD OF GRAMMAR TRANSLATION AND THE METHOD OF READING, BUT VERY LITTLE, AT LEAST IN PRACTICE, OF THE RECENT COMMUNICATIVE APPROACH.
5.1. BEGINNING XVI CENTURY NEED FOR COMMERCIAL EXCHANGE
5.2. XIX CENTURY PREPARATION OF A TEXT IN ENGLISH "COURSE FOR HISPANIC-SPEAKING DOCTORS"
5.3. YEARS 50 BUSINESS ENGLISH MANUALS
5.4. 1969 PUBLICATION OF A REPORT TITLED LANGUAGES FOR SPECIAL PURPOSES.
5.5. 1960s
5.5.1. HANDBOOK FOR DOCTORS AND MEDICINE STUDENTS
5.6. PROJECT OF MODERN LANGUAGES OF THE EUROPEAN COUNCIL MEET THE DEMANDS AND NEEDS OF A FOREIGN LANGUAGE WITH WELL-DEFINED PURPOSES.
5.7. COMMUNICATIVE SYLLABUS DESIGN WORK IT TAKES AS A STARTING POINT THE ANALYSIS OF THE NEEDS OF THE EDUCATORS.
5.8. PREPARED BY HYMES CONCEPT OF COMMUNICATIVE COMPETENCE FROM THE CULTURAL ASPECT
6. RISE OF ESP (REASONS)
6.1. SECOND WORLD WAR ARRIVAL OF TECHNOLOGY, COMMERCE AND THE US AS A WORLDWIDE POWER.
6.2. NEED TO MASTER THE FOREIGN LANGUAGE (TRADERS, DOCTORS, ENGINEERS).
6.3. THE OIL CRISIS IN THE EARLY 197S WHICH RESULTED IN THE MASSIVE FLOW OF FUNDS AND WITH THESE WESTERN EXPERTS TO OIL RICH COUNTRIES
6.4. LINGUISTIC ORDER WHERE THE GRAMMAR CEASED TO BE THE CENTER, TO DISCOVER HOW THE LANGUAGE IS USED IN REAL COMMUNICATION.
6.5. EDUCATIONAL PSYCHOLOGY, THE STUDENT AS THE CENTRAL AXIS OF THE TEACHING-LEARNING PROCESS