THE FALL OF THE HOUSE OF USHER
by Fiorella Valdez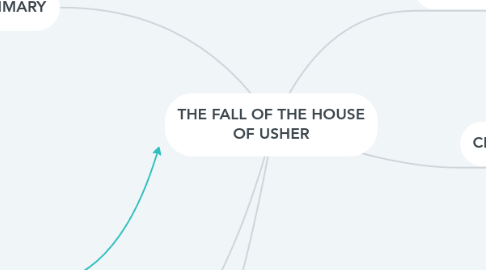 1. SUPERNATURAL HORROR STORY BY EDGAR ALLAN POE (1839)
2. CHARACTERS:
2.1. The narrator: He is an old friend and he comes to take care of his friend, who has a mental illness.
2.2. Roderick Usher: The main character of the story. He is a hypochondriac man living with his sister in an old mansion.
2.3. Madeline Usher: Roderick's sister. She dies from a mysterious illness.
3. SUMMARY
3.1. The story begins with the narrator riding to Roderick's house, who has previously sent him a letter detailing his mental ilness and requesting his company.
3.2. Once he arrives, he starts noticing his friend symptoms.
3.3. Roderick tells his friend that Madeline is gravely ill. As Roderick is explaining his sister's illness, the narrator sees her passing through a distant part of the house.
3.4. After several days, Madeline dies.
3.5. The narrator and Roderick bury her beneath the house. The narrator could notice she is smiling and her cheeks are rosy.
3.6. Over the next few days Roderick get worse. He hears voices and sounds and he wanders around the house without reason.
3.6.1. There is a change in his behaviour since his sister's death.
3.7. One stormy night, Roderick interrumpts into the narrator's room and he begins to act extremely strange. Suddenly, the narrator hears sounds from the house itself.
3.8. The door opens, revealing Madeline all in white. Both sibblings fall, hitting the floor, and die producing the Fall of the House of Usher.
3.8.1. Before the house collapse, the narrator escapes.
4. SETTING
4.1. The story takes place in the Usher family mansion, which is located in a isolated tract of country. The interior is dreary. The bleak walls, vaulted ceilings and antique furniture establish an atmosphere of decay and melancholy.
5. SYMBOLS
5.1. The Usher family represents the dying of the Usher family itself. At the end of the story, when the last surviving Ushers finally died, the House collapse.