How do we create engaging and effective learning content?
by
Rob Hubbard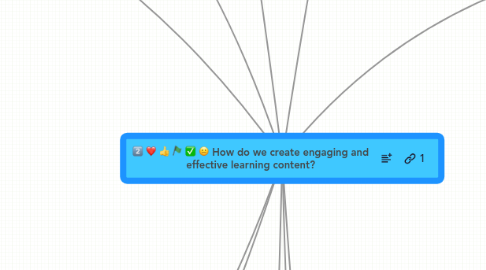 4.5
stars -
2
reviews range from
0
to
5
This mindmap will form the basis for facilitated discussions at the eLearning Network conference on 'Creating Engaging and Effective Content' on 8 May, London UK. Follow the link for more info. Feel free to add to it even if you won't be attending the conference.
LGT
TNA
Well structured
Or should we challenge learners - why should we spoon-feed them?
In a style of language the learner speaks
Meaningful and memorable
Learner has to work with each new idea through practice exercises, cases, sims, etc.
Reduce barriers - eg accessibility good practice
Content accessibility and flexibility is critical
Behaviourism - maybe not
more useful to look at models of learning not overall schools of thought
What books would people recommend?
Patrick Dunn - speaker at the event
The 60 - minute masters - Clive Shepherd
Ruth Clark
Neil Lasher
Nick Shackelton-Jones
Emotion
Storytelling
Haus
2.5 Zi
(AMcN) Learner's contributing to content creation
What part can social media play?
Means of delivery?
Reinforcement?
Peer-to-peer interaction
Controlled chaos
Evolving technology
Control?
Clarity of use in e-l strategy
Cascading use of
in controlled environment
not a learning tool
pontification
Informal learning
Reinforcing and supporting learning
Generation Y
Gaming culture
Immersive 3D
Exciting
Finding the right use
Control?
Cultural shift
Need good underlying learninig
Risk of interface as a barrier
Scenario
if you are going to shoot at least have blood
don't learn to play the game
Distracting from the learning
Accessibility?
AMcN What tools are affordable, available and easy to use?
Xerte
eXe
Yugma
media
interactivity