THE ROMANTIC AGE
by Gloria Armento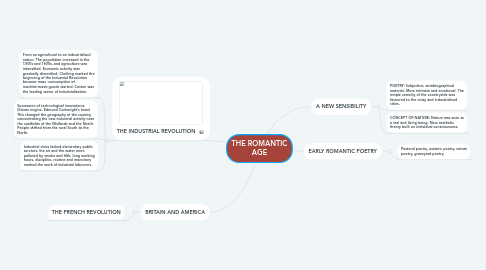 1. THE INDUSTRIAL REVOLUTION
1.1. From an agricultural to an industrialised nation. The population increased in the 1500s and 1600s, and agriculture was intensified. Economic activity was gradually diversified. Clothing marked the beginning of the Industrial Revolution because mass -consumption of machine-made goods started. Cotton was the leading sector of industrialisation.
1.2. Succession of technological innovations. (Steam engine, Edmund Cartwright's loom) This changed the geography of the country, concentrating the new industrial activity near the coalfields of the Midlands and the North. People shifted from the rural South to the North.
1.3. Industrial cities lacked elementary public services, the air and the water were polluted by smoke and filth, long working hours, discipline, routine and monotony marked the work of industrial labourers.
2. EARLY ROMANTIC POETRY
2.1. Pastoral poetry, ossianic poetry, nature poetry, graveyard poetry.
3. BRITAIN AND AMERICA
3.1. THE FRENCH REVOLUTION
4. A NEW SENSIBILITY
4.1. POETRY: Subjective, autobiographical material. More intimate and emotional. The simple serenity of the countryside was favoured to the noisy and industrialised cities.
4.2. CONCEPT OF NATURE: Nature was seen as a real and living being. New aesthetic theory built on individual consciousness.