Hamilton & District Extend-A-Family
by Aidan McCaffrey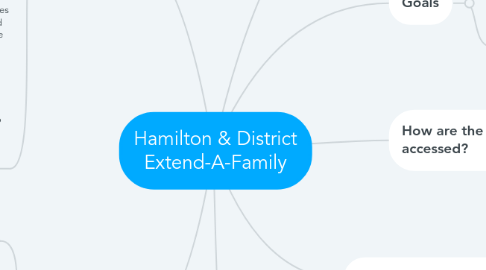 1. Vision
1.1. "All children with special needs will be accepted, supported, and integrated into their community."
2. Goals
2.1. "As a non-profit community service, Extend-A-Family responds to the multiple and unique challenges of children with special needs and their families by providing respite, social opportunities and friendships."
3. Equity
3.1. Equity in the Workplace Hamilton & District Extend-A-Family is a diverse, inclusive, and equitable workplace is one where all employees and volunteers, regardless of "gender, race, ethnicity, national origin, age, sexual orientation or identity, education or disability" are valued and respected. Extend-A-Family is committed to non-discriminatory procedures and works hard to provide equal opportunity for employment and advancement in all areas of the organization. Extend-A-Family respects, honours and values diverse life experiences, heritages. Extend-A-Family believes that all voices are valuable and deserve to be heard.
3.2. Equity in Services • Provide informed, authentic leadership for cultural equity, and will strive to view diversity, inclusion, and equity as connected to our mission. • Acknowledge and dismantle any inequities within our policies, systems, programs, and services, and will continually evaluate these policies and procedures. • Practice and encourage transparent communication in all interactions. • Commit time and resources to expand more diversity within our organization. • Lead with respect and tolerance. We expect all staff to embrace this view and to express it in workplace interactions and through everyday practices.
4. Inclusion
4.1. Every child with special needs should be socially integrated into the community.
4.2. Every child with special needs should be accepted and respected.
4.3. Every child with special needs should be recognized as a unique individual.
4.4. Families of children with special needs are entitled to support to assist with the increased demands that they face.
4.5. Our services have value to the community and the need for our services will be ongoing.
4.6. We can make a difference in the lives of our members.
5. Historically Marginalized Communities
5.1. CLICK LINK: Extended-A-Family takes a strong stance on ensuring all children of marginalized communities within Hamilton are served, respected and valued. Read: Official Statement from the Child and Youth Services System Committee (CYSSC) Regarding Anti-Black Racism
6. How are the programs accessed?
6.1. Online registration forms for families with children who have a developmental delay. Once registration is complete (in person/online) a Family Coordinator will get in touch to set up services.
6.2. Children with ASD must obtain a referral from Resource Coordinator at Contact Hamilton before families can register.
7. Extend-A-Family Programs
7.1. CLICK LINK: "Hamilton and District Extend-A-Family offers programs that provide respite and opportunities for fun and friendship with peers and volunteers in the community."