KINSHIP
by Charli Sprague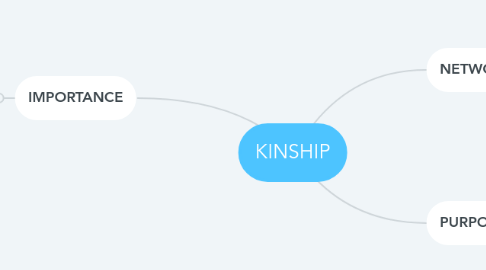 1. NETWORK
1.1. The system allowed for the inclusion for all people within a language group.
1.2. mother, father, brother, sister, aunt and uncle were bestowed upon everyone in the family unit.
2. PURPOSE
2.1. members of each language group could understand exactly where they stood in relation to any other member of the extended family and even outsiders.
2.2. governed social relations and established code of behaviour.
2.3. who was responsible for who
3. IMPORTANCE
3.1. potential conflicts could be avoided
3.2. sense of belonging and identity.
3.3. Kinship rules ensured that relationships between members of the group were secure, ordered and stable.
3.4. give and receive gifts from special kinfolk.
3.4.1. kept individuals busy
3.4.2. economic activity was not for personal profit but to reinforce social bonds through gift-giving.
3.4.3. industry in Aboriginal Society.
3.5. kinship system bought a degree of certainty to everyday life.
3.6. The kinship system allowed for everyone to corporate within the mob and build close connections with everyone. No one was less than another and all had important roles/duties to fulfil.