BENIFITS OF ATTENDING ENGLISH CLASSE
by Rutuja Tayde __365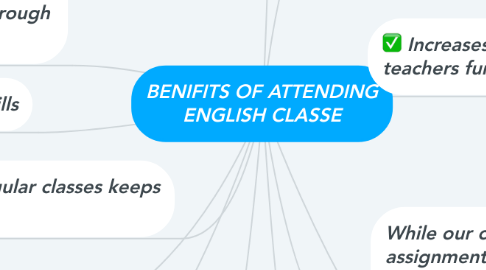 1. Enjoy A Unique study Experience
1.1. By various online applications
2. Helps to become a better Listener
2.1. And Effective speaker
3. Easy to understand the difficult topics through various Mediums
3.1. Audio
3.2. Visual
4. Attending regular classes keeps the Brain sharp
5. Helps to improve skills
5.1. Abstract Thinking skill
5.2. Concept formation
6. Increases Interest in topics by teachers fun way of teaching
6.1. By making himself Available
6.2. By making topics interactive
6.3. By creating classroom Games
6.4. By sharing his passion
6.5. By sharing his Experiences
6.6. By giving student choices
6.7. By reviewing but without repeating the topics
7. Attending regular classes helps to clear the doubts instantly by the Teacher
7.1. By discussing about queries with teacher
8. our teacher share examples, stories, and real-life applications of concepts that make information easier to understand and remember
9. While our course syllabus outlines the major assignments, sir often provide new information or clarification about upcoming assignments during class, typically in response to students' questions.
10. Teacher poses questions or lead a discussion in class that directs us to make connections between concepts and helps us to think about the material in new ways
11. The Teacher is an expert on the material, and he designs their lectures to organize the main ideas and extract the important concepts. Attending class and taking good notes helps to put the ideas together and focus on what is important.
12. Made By Rutuja