Grammar is the art of mastering words. Grammar studies the rules and principles of language usage and the order of words within sentences.
by Elizabeth Cartagena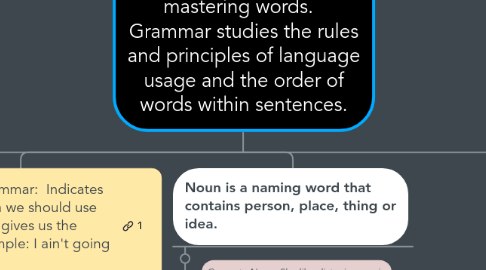 1. Descriptive Grammar: Describes how to language is used, describes the way people use language and is therefore known as descriptive grammar. Example: Less people came to the show this year
2. Prescriptive Grammar: Indicates the way in which we should use the language, it gives us the guidelines. Example: I ain't going nowhere.
3. Articles: Basically an article is an adjective. Like adjectives articles modify nouns. Example: Let's read the book
3.1. DEFINITE AND INDEFINITE ARTICLES: A / AN / THE EXAMPLE: 1. I am going to the bank 2. I bough the sunflower (singular), 3. The psrschutist are extreme (plural)
4. Noun is a naming word that contains person, place, thing or idea.
4.1. Concrete Noun: She likes listening music
4.1.1. Abstract nouns: The Athlete had the ability to inspire people
4.1.1.1. Singular Noun: He has to catch that train at any cost
4.1.1.1.1. Plural noun: She has beautiful teeth