UNDERSTANDING QUALITY
by Judileen Yugto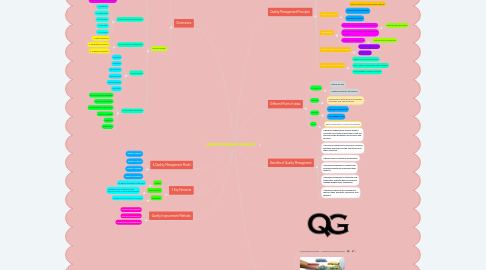 1. Quality Management Principles
1.1. Customer Focus
1.1.1. Needs of the customers
1.2. Leadership
1.2.1. Set challenging goals
1.2.2. Empower each other
1.2.3. Establish trust
1.3. Engagement of People
1.3.1. Value people
1.3.2. People are accountable
1.3.3. Meet customer requirements
1.3.4. Make decisions based on analysis
1.3.5. Enable learning and knowledge sharing
1.4. Process Approach
1.4.1. Measure one's capability
1.4.2. Manage activities
1.5. Improvement
1.5.1. Empower people to make improvement
1.5.1.1. Abilities must be Utilize
1.5.2. Improve organizational performance and capabilities
1.5.3. Celebrate improvements
1.5.3.1. Identify true connections
1.6. Evidence-based decision making
1.6.1. Relay on valuable data
1.6.2. Analyze data
1.7. Relationship Management
1.7.1. Deploy resources effectively
1.7.2. Plan, Share, Collaboration with partners
1.7.3. Acknowledge suppliers success
2. Different Point of views
2.1. Customers
2.1.1. Fitness for use
2.1.2. Meeting customer satisfaction
2.2. Process
2.2.1. Conformance with the process design, standards, and specifications
2.3. Product
2.3.1. Degree of excellence
2.3.2. Acceptable price
2.4. Cost
2.4.1. Best combination of costs and features
3. Dimensions
3.1. Product Quality
3.1.1. Performance
3.1.2. Features
3.1.3. Flexibility
3.1.4. Durability
3.1.5. Conformance
3.1.6. Service Ability
3.1.7. Aesthetics
3.1.8. Perceived Quality
3.2. Service Quality
3.2.1. MODEL OF 5 GAPS
3.2.1.1. 1. Customer expectation and management perception of these expectation
3.2.1.2. 2. Management perception of customers expectation
3.2.1.3. 3. Service quality specification
3.2.1.4. 4. Actual service delivery
3.2.1.5. 5. Perceived service delivered
3.2.2. 5 IMPORTANT DIMENTIONS
3.2.2.1. 1. Reliability
3.2.2.2. 2. Responsive
3.2.2.3. 3. Assurance
3.2.2.4. 4. Empathy
3.2.2.5. 5. Tangibles
3.2.3. 3 IMPORTANT ATTRIBUTES
3.2.3.1. 1. Search Qualities
3.2.3.2. 2. Experience Qualities
3.2.3.3. 3. Credence Qualities
3.2.4. DIMENSIONS
3.2.4.1. Timeless
3.2.4.2. Courtesy
3.2.4.3. Consistency
3.2.4.4. Convinience
3.2.4.5. Completeness
3.2.4.6. Accuracy
3.2.5. CUSTOMERS SERVICE
3.2.5.1. Good product knowledge
3.2.5.2. Multi-tasking ability
3.2.5.3. Good communication skills
3.2.5.4. Positive attitude
3.2.5.5. Patience
3.2.5.6. Respectful
4. 4 Quality Management Model
4.1. Quality Improve
4.2. Quality Control
4.3. Quality Planning
4.4. Quality Assurance
5. 3 Key Elements
5.1. Design
5.1.1. Designed to satisfy customers
5.2. Conformance
5.2.1. Finished product matches the specifications of the original design
5.3. Reliability
5.3.1. Provide trouble-free performance
6. Quality Improvement Methods
6.1. Product improvement
6.2. Process improvement
6.3. People-based improvement
7. Benefits of Quality Management
7.1. It helps an organization achieve greater consistency in tasks and activities that are involved in the production of products and services.
7.2. It increases efficiency in processes, reduces wastage, and improves the use of time and other resources.
7.3. It helps improve customer satisfaction.
7.4. It enables businesses to market their business effectively and exploit new markets.
7.5. It enables businesses to integrate new employees, and thus helps businesses manage growth more seamlessly.
7.6. It enables a business to continuously improve their products, processes, and systems.
8. REFERENCE:
8.1. Understanding Quality – Definitions and Dimensions
8.2. Quality Management: An Inside Look
8.3. ISO 9000 Series of Standards - What is ISO 9000? | ASQ
8.4. Service Quality: Introduction, Definitions, Dimensions and Model
8.5. Quality Management - Understanding How Quality Management Works