ADVERBS OF FREQUENCY
by Areli Ximena Beltran Sanchez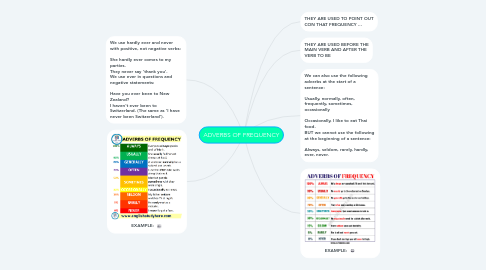 1. THEY ARE USED TO POINT OUT CON THAT FREQUENCY ...
2. THEY ARE USED BEFORE THE MAIN VERB AND AFTER THE VERB TO BE
3. We can also use the following adverbs at the start of a sentence: Usually, normally, often, frequently, sometimes, occasionally Occasionally, I like to eat Thai food. BUT we cannot use the following at the beginning of a sentence: Always, seldom, rarely, hardly, ever, never.
4. We use hardly ever and never with positive, not negative verbs: She hardly ever comes to my parties. They never say 'thank you'. We use ever in questions and negative statements: Have you ever been to New Zealand? I haven't ever been to Switzerland. (The same as 'I have never been Switzerland').
5. EXAMPLE:
6. EXAMPLE: