MICROSOFT EXCEL VOCABULARY WORDS
by Christopher Robinson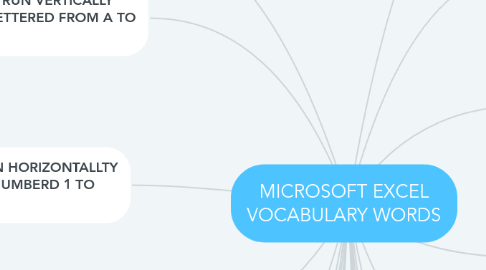 1. SPREADSHEET/ APPLICTION USED TO STORE AND ANALYZE DATA.
2. WORKSHEET/ EXCEL SPREADSHEET DOCUMENT.
3. WORKBOOK/ THREE WORKSHEETS MAKE A WORKBOOK.
4. COLUMMS/ RUN VERTICALLY AND ARE LETTERED FROM A TO Z.
5. ROWS/ RUN HORIZONTALLTY AND ARE NUMBERD 1 TO 1,048576.
6. CELL REFERENCE/ COLUMN LETTER AND ROW NUMBER THAT IDENTIFY A SINGLE CELL.
7. DATA/ CAN BE A LABEL, VALUE OR DATA/ TIME.
8. LABEL/ TEXT THAT CANNOT BE USED IN CALCULATIONS.
9. VALUE/ IS NUMERIC AND CAN BE USED IN CALCULATIONS.
10. BOUNDARY/ BAR SEPARATING THE COLUMN LETTERS AT THE TOP OF THE WORKSHEET.
11. INSERTION POINT/ BLINKING VERTICAL LINE THAT SHOWS WHERE A CHARACTER TYPED WILL BE PLACED.
12. ADJACENT CELLS/ CELLS ARE NEXT TO EACH OTHER.
13. RANGE A SELECTION OF TWO OR MORE CELLS.
14. THEME PREDEFINED SET MOF COLORES, FONTYS AND EFFECTS USED TO FORMAT.
15. GRIDLINE/ SOILD LINES THAT MARK OFF THE ROWS AND COLUMNS.
16. HEADER/FOTTER.AUTOMATICALLY PRINTED AT THE TOP AND BOTTOM OF EACH PAGE.
17. FORMULA/ MATHEMATICAL STATEMENTS USED TO CALCULATE VALUES.
18. SUM/ ADDS THE VALUES IN THE CELLS IN THE RANGE.
19. AVERAGE/ ADDS THE VALUES IN THE CELLS IN THE RANGE THEN DIVIDES THE RESULTS BY THE NUMBER OF CELLS.
20. MAX/ FINDS THE MAXIMUM VALUE IN THE RANGE.
21. MIN/ FINDS THE MININMIM VALUE IN THE RANGE .
22. COUNT/ DETERMINES THE NUMBER OF CELLS THAT CONTAIN VALUES.
23. SOURCE/ CELL TO BE DUPICATED.
24. DESTINATION/ CELLS WERE DATS IS TO BE PLACEED.
25. FILL HANDLE/ SOLID SQUAR IN THE L;OWER RIGHT CORNER OF A SLECTED CELL.
26. TEMPLATE MASTER NWORKSHHET THAT INCLUDES THAT BASIC ELEMNETS FOR A PARTICULAR TYPE OF WORKSHEET.
27. CELL/ INTERSECTION OF A ROW AND COLUMN.