Modal Verbs Fabian Emmanuel Hernandez Gonzalez 4C ofimatica
by FABIAN EMMANUEL HERN�NDEZ GONZALEZ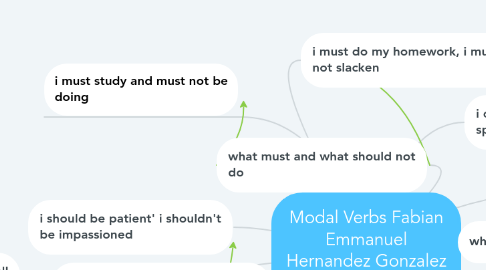 1. what can i and what can i not do?
1.1. v
2. what could you and couldnt you do when you were little
3. what should and what should not do?
4. what could and what could not do?
5. i can sing in english but not i can spanish
6. i can play basketball but not can soccer
7. i could talk but not could walk
8. i could say dad but i couldnt say mom
9. i should be patient' i shouldn't be impassioned
10. i should be good, i shouldn't be bad
11. i could be a doctor but i couldnt see the best
12. i could play basquetball but i couldnt soccer
13. what would and what would not do?
14. i would exercise and i would not do anything
15. i would have a sleepover, i would not have a party
16. i must do my homework, i must not slacken
17. what must and what should not do
18. i must study and must not be doing