Networks
by Sergio Roberto Sena dos Santos Junior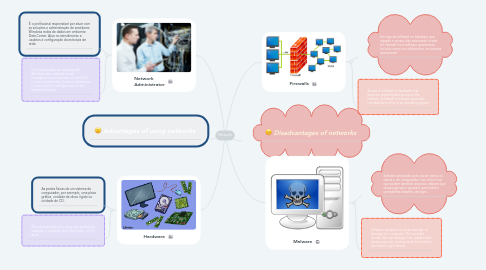 1. Firewalls
1.1. Um tipo de software ou hardware que impede o acesso não autorizado à rede. Um firewall é um software geralmente incluído como um utilitário em um sistema operacional.
1.2. A type of software or hardware that prevents unauthorized access to the network. A firewall is software generally included as a utility in an operating system.
2. Malware
2.1. Software projetado para causar danos ou danos a um computador. Isso inclui vírus que podem danificar arquivos, adware que causa pop-ups e spyware que coleta e compartilha detalhes de login.
2.2. Software designed to cause damage or damage to a computer. This includes viruses that can damage files, adware that causes pop-ups, and spyware that collects and shares login details.
3. Network Administrator
3.1. É o profissional responsável por atuar com as soluções e administração de servidores Windows redes de dados em ambiente Data Center. Atua no atendimento a usuários e configuração da estrutura de rede.
3.2. He is responsible for working with Windows data network server management and solutions in the Data Center environment. It acts in the service to users and the configuration of the network structure.
4. Hardware
4.1. As partes físicas de um sistema de computador, por exemplo, uma placa gráfica, unidade de disco rígido ou unidade de CD.
4.2. The physical parts of a computer system, for example, a graphics card, hard drive, or CD drive.
5. Advantages of using networks
6. Disadvantages of networks