PYP
by Kuintina Cynthia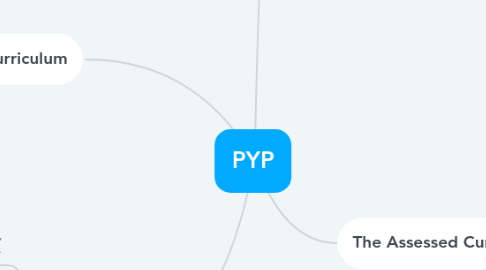 1. The Written Curriculum
1.1. Rationale of curriculum, General goals to be realized, Specific objectives to be achieved, The sequence of objectives, Kinds of learning activities
1.2. Bidang Studi : Language (Bahasa), Social studies (Ilmu sosial), Mathematics (Matematika), Arts (Seni), Science (Ilmu alam), Personal, social and physical education (Pendidikan pribadi, sosial, dan jasmani).
1.3. 5 Elemen : Knowledge, Concepts, Skills, Attitudes, Action
1.4. Transdisiplin : Who We Are, Where We Are in Place and Time, How We Express Ourselves, How the World Works, How We Organise Ourselves, Sharing the Planet
2. The Taught Curriculum
2.1. Berdasarkan pada inkuiri, Berfokus pada pemahaman konseptual, Dikembangkan dalam konteks lokal dan global, Berfokus pada kerja sama tim dan kolaborasi yang efektif, Dirancang untuk menghilangkan hambatan belajar, Didasarkan atas penilaian.
2.2. 5 Kategori Keterampilan : Keterampilan berpikir, keterampilan meneliti, keterampilan komunikasi, keterampilan sosial, keterampilan mengelola diri sendiri.
2.3. Perencanaan : Dirancang untuk digunakan secara kolaboratif, Terstruktur di jalur Pendidikan.
3. The Assessed Curriculum
3.1. 3 Bidang : Menilai, Pencatatan, Pelaporan
3.2. Penilaian Sumatif dan Penilaian Formatif
3.3. Macam-macam strategi penilaian : 1) Pengamatan 2) Penilaian Kinerja 3) Penilaian terfokus pada proses 4) Respon Terpilih 5) Tugas-tugas Terbuka
3.4. Alat Penilaian : Rubrik, Daftar Periksa, Catatan Anekdot, Kontinum
4. Exhibition
4.1. Mendemonstrasikan keterlibatan dengan lima elemen penting, yakni pengetahuan, konsep, keterampilan,sikap dan tindakan.
4.2. Pameran memiliki peristiwa penting dalam kehidupan sekolah dan siswa PYP, mensistensi yang esensial elemen PYP, dan membagikannya dengan seluruh komunitas sekolah.
4.3. Penilaian : Penilaian berkelanjutan atas kontribusi setiap siswa untuk dan pemahaman tentang pameran, Penilaian sumatif dan refleksi.