MCKINSEY7'S MODEL
by Snehal more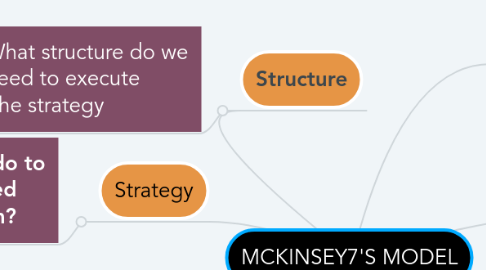 1. Structure
1.1. What structure do we need to execute the strategy
2. Style
2.1. What leadership style and cultural qualities will helpus to achieve astrategic objective?
3. Staff
3.1. How should we help our managers in their growth?
4. Strategy
4.1. What should we do to solve the specified business problem?
5. Shared value
5.1. Which of our principles help us? Why do we do what we do in the way we do it?
6. Skills
6.1. What are the specific skills that will help us? What skills do we need to develop?
7. System
7.1. What business system do we need to use or invent to execute the strategy