AEDGE 2021 (Intern)
by Isabel Tan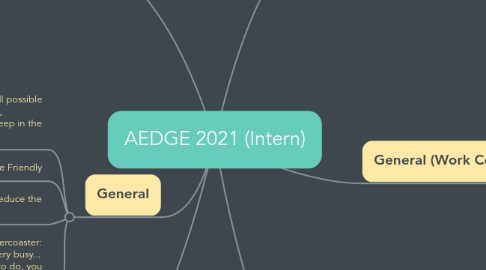 1. Wordpress
1.1. Renew the annual bill payment for the website before expiration date (January)
1.2. Get a clear image of what information is available to you
1.2.1. Create a spreadsheet with the most up-to-date information
1.2.2. Note: When writing out dimensions, height first. All dimensions should be in same unit of measurement.
1.2.3. Chase people if necessary to meet the deadline
1.3. Make it user-friendly
1.3.1. Include links / buttons
1.3.2. Images convey more information than words
2. General
2.1. When you first join, ask to be in all possible aedge whatsapp groups (curators, designers, programmers etc) to keep in the loop.
2.2. Keep and Open Mind and Be Friendly
2.3. Do as much work as you can to reduce the workload off others
2.4. Realise that the workload is a rollercoaster: when there is work, you will be very busy... However, when there is no work to do, you will be bored so find something to keep you busy :)
3. General (Work Content)
3.1. Be consistent throughout text and formats
3.1.1. Check the use of "&" vs "and"vs ","
3.1.2. Check the use of capitalisation, spelling, spaces etc
3.1.3. Check colour schemes
3.2. Maintain a neat desktop / folder for aedge-related documents and images
3.2.1. Many photos will need to be downloaded to re-upload onto the website, so ensure the files are named and placed in a clear location to avoid losing and re-downloading the same image.
3.3. Be prepared for many, many, many edits and last minute changes
4. Job Scope
4.1. Helping with aedge 2021 Set-up and Deinstallation
4.2. Propagating Information for:
4.2.1. Artwork Labels
4.2.2. Brochure/e-Catalogue
4.3. Editing and Updating Wordpress website
4.4. Artist Interviews (video and text)
4.4.1. Set-up
4.4.2. Editing Videos
4.4.3. Uploading onto website
4.5. Talking to Teacher-artists and organising committee
5. Set-Up
5.1. Plinths
5.1.1. Label them by artist names and/or dimensions
5.1.2. Buy paint for plinths and a floor cover where plinths will be painted
5.2. Be willing to help people
5.3. Note: Deinstallation Days are very quiet and less chaotic
6. Opening Vernissage
6.1. Be familiar with the schedule and converse with the teacher-artists