ELEKTRONIČKO POSLOVANJE
by Leon Mlekuž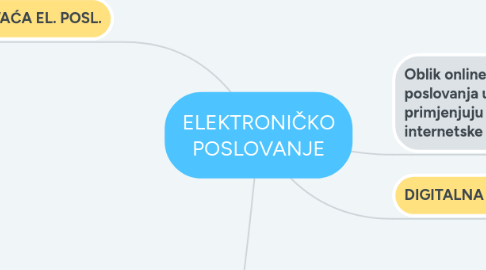 1. ŠTO SVE OBUHVAĆA EL. POSL.
1.1. ELEKTRONIČKE AUKCIJE
1.1.1. ● web mjesta na kojima se susreću ponuda i potražnja ● kupci i prodavači su najčešće fizičke osobe ● osoba koja ponudi najveću svotu u zadanom vremenu ostvaruje prvenstvo kupnje ● bid ili buyout
1.2. ELEKTRONIČKI OGLASNICI
1.2.1. ● opći, specijalizirani, poslovni ● web mjesta koja evidentiraju i klasificiraju različite vrste oglasa
1.3. ONLINE INVESTIRANJE
1.3.1. ● trgovanje kapitalom u realnom vremenu na burzama ● nakon registracije broker u ime kupca obavlja transakcije na burzama
1.4. ELEKTRONIČKA KUPNJA I PRODAJA USLUGA I PROIZVODA
1.4.1. ● osnovni modeli online trgovanja: ○ B2C – business to customer (maloprodaja) ○ B2B – business to business (veleprodaja) ○ B2G – business to government (javna nabava)
1.5. ELEKTRONIČKO IZDAVAŠTVO
1.5.1. ● digitalno izdavanje (publiciranje) knjiga, časopisa, članaka, igara, glazbe, filmova ● polako uzima prednost nad tradicionalnim izdavaštvom ● niži troškovi, veća dostupnost, lakša distribucija, manje posrednika autor-čitatelj ● problem zaštite autorskih prava (DRM – Digital Rights Management)
1.6. ONLINE EDUKACIJE
1.6.1. ● ili učenje na daljinu ● mentorski rad, administracija i distribucija nastavnih sadržaja, komunikacijski alati učenik-učitelj, interaktivni sadržaji ● LMS (Learning Management System) ● Moodle (Modular Object-Oriented Dynamic Learning Environment) ● MOOC (Massive Open Online Course)
1.7. ELEKTRONIČKO PLAČANJE I NAPLATA
1.7.1. ● FINTECH - financial technology - svako tehnološko rješenje i inovacija koja za cilj ima poboljšanje i automatiziranje pružanja usluga, dostupnosti i korištenja financijskih servisa. ● DIGITALNO BANKARSTVO ○ nije samo digitalizacija servisa i proizvoda ○ proces transformacije tradicionalnih banaka u potpuno digitalne s povezanim aktivnostima, aplikacijama i uslugama ○ "banka bez poslovnice"
1.8. BLOCKCHAIN TEHNOLOGIJA
1.8.1. ● kriptirani način distubuiranog (decentraliziranog) zapisivanja svih transakcija (block) u knjigu zapisa (ledger) ● glavna karakteristika - nepromjenjivost podataka
2. Oblik online organizacije poslovanja u kojem se primjenjuju informatičke odnosno internetske tehnologije
2.1. OBLICI EL. POSL.
2.1.1. 1. elektronička trgovina 2. elektroničko izdavaštvo 3. online edukacija 4. elektroničko plaćanje i naplata
3. DIGITALNA EKONOMIJA
3.1. bazirana na infomacijskoj/informatičkoj tehnologiji i internetu
4. ELEKTRONIČKA TRGOVINA
4.1. PREDNOSTI
4.1.1. ● ubrzanje poslovanja ● viši standard poslovanja ● veća dodana vrijednost ● praćenje trendova ● smanjenje troškova ● visoka dostupnost ● višekanalna prodaja (omnichannel)
4.2. NEDOSTATCI
4.2.1. ● nedostupnost interneta ● tehnološki jaz ● sigurnost novčarskih transakcija ● zaštita osobnih podataka ● pouzdanost prodavača ● povrat i reklamacije ● proizvod "sa slike"