HTT5654G1G2 Brainstorming Task Week 2
by SITI ZURAINI RAMLEY ALAN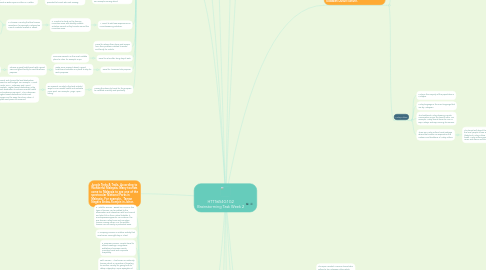 1. For food tourism I will suggests tourists who enter Malaysia have to try unique food such as from Sarawak is Laksa Sarawak it is different tastes from Laksa Penang
2. Do some research about different culture and also look for the travel packages. For example, Malay culture, Chinese culture or Kadazan Dusun culture.
2.1. Kadazan Dusun Culture
2.1.1. The largest ethnic category in Sabah.
2.1.1.1. Example of Kadazan Dusun travel packages
2.1.2. Their language belongs to the Dusunic family.
2.1.3. Shares an animistic belief system as well as different rituals and traditions.
2.1.4. Their ancient views about the existence of life - that rocks, plants, and rivers are all living beings.
2.1.5. Pesta Kaamatan, or Harvest Festival, is a one-in-a-kind celebration of Kadazandusun culture.
2.1.5.1. Harvest Festival (Pesta Kaamatan)
2.1.5.1.1. It is a festival to honouring the Rice Spirit - Bambaazon or Bambarayon - and to express gratitude for another bountiful year.
2.1.5.1.2. The festival begins on the 1st of May at many district levels.
2.1.5.1.3. The ritual and customs of the Harvest Festival is a tribal practice of Kadazandusun and also Murut people.
2.1.5.1.4. The Bobohizan or Bobolian who are the High Priests or Priestesses (depending on the district/area undertaking the preservation) will conduct the ritual.
2.1.5.1.5. In different districts, the priests or priestesses may be addressed to differently, for instance in Tambunan district they are known as Bobolian, in Tuaran as Tantagas and in Penampang as Bobohizan.
2.1.5.1.6. Ancient folklore tells of the ultimate deed of Kinoingan or Minamagun - The Almighty God or Creator, who sacrificed his only beloved daughter, Huminodun so that his people would have food.
2.1.5.1.7. Various parts of her body were planted from which plants grew. During the Magavau ceremony, the Bobohizan will select some stalks of rice that are left undistributed until the harvest is over.
2.1.5.1.8. In the old days, this ceremony was often performed in freshly harvested fields during the first full moon after the harvest to invoke the rice spirit.
2.1.5.1.9. The vital aspect of Magavau is the paraphernalia used to summon Bambaazon. The sacrament of Magavau may vary according to district practices but the ceremony always ends with food offerings to Bambaazon and merry making for the village folks.
2.1.5.1.10. The language used by Bobohizan is archaic whose meanings have been buried in time and known only to the few remaining Bobohizan these days.
2.1.5.1.11. The selection of the pageant queen, or "Unduk Ngadau," which literally translates as "Zenith of the Sun," is the highlight of the Harvest Festival. It originates conceptually from Huminodun's sacrifice. The maiden chosen should resemble Huminodun and represent all that is good in the beloved Huminodun.
2.2. Malay culture
2.2.1. Malay is the majority of the population in Malaysia.
2.2.2. Malay language is the main language that use by Malaysian.
2.2.3. The traditional Malay dressing is quite conservative as per the laws of Islam. For example, Malay formal dress for men is Baju Melayu and Baju Kurung for women.
2.2.4. There are Malay culture travel package where the tourists can experience the customs and traditions of Malay culture.
2.2.4.1. The tourist will stay at the homestay with the local people to see and experience the lifestyle of Malay culture. For example, the foods, Malay culture games and Malay music and dance and etc.
3. 7.Cultural tourism - this type of tourism allows tourists to participate in local cultural activities. in addition, tourists can also enjoy cultural exchanges through sharing from locals. for example, Mari Mari Cultural Village at Sabah.
4. .3. Agritourism-Agritourism or agrotourism tourism normally occurs on farms. It gives travelers an opportunity to experience rural life, taste the local genuine food and get familiar with various farming tasks. This type of tourism is also referred to as farm stays in Italy. Example of aritourism inlude farm tours for families and school children; Farm-based lodging
5. for people who want to travel to taste the local food they must do a research or read a article that provide information about food so this can make them easily find where the right place for them to travel for food. In Malaysia is very famous about food so this is the right place for tourist to experience new food. Example in Negeri Sembilan, Penang and Kelantan most popular place that have delicious.
6. For tourists who are travel for food tourism, they need to make a study of the states that have the uniqueness of food. For example, Penang is a state famous for Nasi Kandar, Cendol, Laksa Penang and Passembor Padang Kota. So it will make a uniqueness for travelers who travel for food tourism.
7. 1. Nature-Based Tourism - responsible travel to natural areas/attractions, which conserves the environment and improves welfare of locals. The main motivation is the observation, appreciation of nature and the traditional cultures prevailing in natural areas. Examples include bird watching, photography, stargazing, visiting national parks and wilderness areas.
7.1. Religious Tourism - Religious tourism can be referred to travel for religious or spiritual purposes, such as undertaking a pilgrimage and visiting sacred sites. For example, as for Muslims they can visit Mecca and Madinah to perform their Umrah and Hajj.
8. Travel to experience local food
8.1. Do some research about local food.
8.1.1. Choosing a country that has famous local food. For example, Malaysia has Malaysian traditional food that is famous.
8.1.1.1. After selecting a country to be used as a tourist destination, make a reservation for convenience during the tour. For example, transportation packages, accommodation, and even travel that are suitable for the activities to be implemented.
8.2. Local Food is Part of the Culture
8.2.1. Traditional foods are a part of a country's history and are deeply ingrained in people's memories.
8.3. Local Food Supports the Community
8.3.1. Eating in local establishments benefits local retailers and the local economies while also fostering relations between locals and visitors. Travelers who only remain in one location for a few days can believe that it is too short a time to form any relationships, but where you eat will contribute to the local community's view of visitors and, in some cases, nationalities as a whole.
8.4. Local Food is Better for the Environment
8.4.1. Locally grown produce does not have to go almost as far, and you will normally find small farmers who practise organic farming practises. Buying locally also involves promoting local farms and green spaces, whether you're at home or on the road.
8.5. Local Food is Fresher & Tastes Better
8.5.1. Local produce is still seasonal, and it tastes healthier as well. Consider consuming a ripe tomato in the summer, which is bursting with flavour. When compared to a tomato consumed in the winter, it can taste small and watery. Eating seasonal foods is also beneficial because it promotes our bodies' natural equilibrium.
9. Consumer/Tourist Purchase Decision Making Process Model
9.1. 1.Travel to obtain medical treatment
9.1.1. 2. Do some research about the facility of medical treatment, cost of the treatment and security at another country using internet tools
9.1.1.1. 3. Choosing a country who have a best facility and modern treatment based on desires as patient.
9.1.1.1.1. 4. Book a basic need such as accommodation, transportation and exchange money according the country currency. After that, travel and get the medical treatment.
9.1.2. 1. The Need/Desire to Travel (Stage 1 Pre-Purchase Behaviour)
9.1.2.1. 2. Information Search (Stage 1 Pre-Purchase Behaviour)
9.1.2.1.1. 3. Travel Decision - choosing the best travel destination and other related options (Stage 1 Pre-Purchase Behaviour)
9.2. Travel to experience different culture. For example, travel to Malaysia to experience their local culture.
9.3. 1. Travel to give birth in another country to obtain the citizenship.
9.3.1. 2. Do some research on which countries do give citizenship by birthright and compare which country has the more benefit. For example, United States, Canada, Argentina and so on.
9.3.1.1. 3. Choosing the best country that offers the best service of medical especially in giving birth. Recognize which country has the best OB-GYN.
9.3.1.1.1. 4. Book a flight after confirming which country to go to. The most important thing is to book an appointment with an OB-GYN so there will be no problem in the case of emergency in giving birth. Pack everything that is important for the preparation of giving birth and also for postnatal care. Ready with every document needed to give birth in another country.
9.4. Travel to visiting beautiful island. For example, island of Penang and Langkawi in Malaysia.
9.4.1. Do some research on which beautiful island and also look the travel packages.
9.4.1.1. Choosing the best island which is good packages, full of good accommodation and good services.
9.4.1.1.1. Book a travel packages which is has the transportation to go to the island, provides the accommodation to stay, and sleep.
9.5. Travel to experience different food. For example, they travel to Malaysia because Malaysia have a lot of different tastes food.
9.5.1. Do some research about different food in every state in Malaysia. For example, Sarawak and Sabah have unique tastes and types of food.
9.5.1.1. Choosing states in Malaysia that have various types of food that are not available in their country.
9.5.1.1.1. After choosing Sarawak as their destination to travel, they need to buy a flight ticket to Sarawak and prepare various documents to enter Sarawak. In addition, they need a tours guide to explore place that have various types pf food in Sarawak.
9.5.2. Do some research about food at different state in Malaysia.
9.5.2.1. Choosing the food that i wanted the most and list it into my own bucket list.
9.5.2.1.1. choose the transportation that i want to use from start until the end of my tour.
9.5.2.1.2. arrange my budget before choosing my transportation.
9.6. 1. Travel for get new experience and to know the uniqueness of place in Malaysia. For example Penang Island
9.6.1. 2. Do some research about the culture of Penang people, language and facilities. Other than that, look on the activates that provided to tourist who visit Penang.
9.6.1.1. 3. Choosing the best of destination that can give big memories when we visit that place and can learn more about culture such as Baba Nyona Culture in Melaka
9.6.1.1.1. 4. As a part for preparation, we need to choose the transportation such as Airlines, Land transportation either use rent car or public transport, accommodation. After that, prepare other document that need to provide by tourist before enter the state such as medical report (Covid-19).
9.7. 1. Travel to add new experiences in mountaineering activities.
9.7.1. 2. Conduct a study on the famous mountain areas and identify suitable activities carried out by tourists around the mountain areas.
9.7.1.1. 3. Choose a country that has famous mountains, for example Malaysia has Mount Kinabalu located in Sabah.
9.7.1.1.1. 4. After choosing Mount Kinabalu as their tourist destination, they need to buy a flight ticket to Sabah and choose a package that suits their tourism activities. In addition, they need a tour guide as their guide while traveling.
9.7.1.1.2. choose which one spa is the most suitable
9.8. Travel to release their stress and escape from their problems related to works, and family for a while.
9.9. Travel to relax after tiring day of work
9.9.1. Do some research on the most suitable place to relax. for example a spa
9.10. Travel for business/Job purpose
9.10.1. make some research about a good hotel/resort suitable as a place to stay for work purposes.
9.10.1.1. Choose a good hotel/resort with a good view and good facility for work/business perpose.
9.10.1.1.1. After choosing the hotel/resort, select a most suitable pakej and room for stay.
9.11. Having the desire to travel for the purpose to meditate mentally and spiritually.
9.11.1. Do research on what is the best activity / ways to cure mental health and embrace inner spirit. For example , yoga , spas , hiking.
9.11.1.1. Search and choose the best destination based on self budget. For example , Mount Machu Piccu , Indonesia and Mount Kinabalu. Higher based destination is the best destination to enhance mental health and embrace inner spirit . This is because higher based destination holds most oxygen and far away from busy cities. It gives most peace to someone.
9.11.1.1.1. After choosing for example , Machu Piccu as the destination , make sure to choose best agency / tour package. This is to make sure safety and financial are secured.
10. Local Stereotypes of Tourists - state your first impression on how you perceived (+/-) foreign tourist who visit your hometown or Malaysia as a whole
10.1. The open minded American tourist who willing to try Malaysian culture while visiting Malaysia.
10.2. The friendly American who always willing and excited to try Malaysian traditional food.
10.3. American tourists who are always curious and trying new things. They always ask about the uniqueness found in the tourist spots they visit and have a feeling of excitement with the activities they love.
10.4. Singaporean who visits Malaysia thinking that their country is much better and cleaner than Malaysia.
10.5. The American tourist who used to live in a cold temperature surrounding travel to Malaysia to experience the hot environment.
10.6. All tourist who is visits in Malaysia is like go to the island in Malaysia. For example, the west coast island of Penang and Langkawi are exceptionally famed for being among the top in Asia.
10.7. American tourists who like to travel to Malaysia often give a smile and friendliness. For example, they have a lot of fun on the island and always smiles with the locals.
10.8. The american tourist who visit malaysia like go the beach or island in Malaysia because of the nature that more unique rather than their country.
10.9. The arrogant American tourist who is proud with their "I Love USA" t-shirt when travelling outbound.
10.10. Tourists who choose Malaysia as a tourist destination is because of the uniqueness of Malaysia which is not available in some countries. This is because, Malaysia has various treasures which Malaysia is known as Truly Asia. For example, foreign tourists who are interested in their history visit the State of Melaka which is a historical city, Perak has a Kellie's Castle, and Langkawi Island is a legendary island and many more. In addition, for tourists who love nature, they can visit the Kinabalu National Park, which is full of unique flora and fauna. Malaysia has an island like the Maldives, namely Mantanani Island and various other islands.
10.11. The Chinese tourists who are always rude by talking loudly in front of public, jumping the queue, littering everywhere they go, cannot speak in english and only expecting local people to talk in Chinese language.
10.12. The chinese tourist who love to go to the island and enjoy the Malaysia weather also like to see the sunset in the evening.
10.13. Local people give awkward looks to tourists , especially woman , when they are wearing bikinis at the beach. This thing usually happens amongst western tourists in Malaysia. This will not only make them feel uncomfortable , but also give them bad impression upon Malaysia citizens (judgmental / narrow minded) .
10.14. my first impression when other people from other countries visit our hometown i am actually be proud it because other people interest about hometown its means our hometown beautiful and interesting. Also this can make our country value increase cause tourists interest to go travel to our country so this will help our country gain a income from exchange money so this is a big opportunity for us to become a valuable countries.
10.14.1. The local stereotypes that I've heard of regarding the Indonesian tourists is that if they are going to the West Malaysia, they are usually very rich. Besides that, I've also heard that at least in Serian, you can differentiate the locals and Indonesian tourists by their appearance. For guys, they like wearing batik, whereas for women, they have a specific type of hijab that they wears which usually includes flowery design/ruffles
10.15. Based on my experience, the local stereotypes that Brunei tourist is a great examples from other country. They respect our culture and can speak our languages so it easy for them to talk in Malaysia country.
10.15.1. Some of the tourist have a good attitude and some of them were so rude. most of the rude tourist were from China.
10.15.1.1. My first impression for the foreign tourists that visit Malaysia, is firstly of course I am so proud as they have chosen Malaysia as one of their holiday destination. However, there are many types of tourists behavior that we as Malaysian will encounter which is good or bad in their behavior. As for my experience, Arabic tourists that I have met so far they were all polite since they asked me politely and thank me afterward.
10.15.1.1.1. My first impression for the foreign tourists that visit in Malaysia is of course I am happy and proud to be here at this country. when is see the foreign tourists at my hometown, i feel like i wanted to talk with them, wanted to communicate with them and ask anything about they country.
10.16. My first impression of Japanese Tourist, they are polite and willing to learn our Malaysian language by getting to know our greetings such as Terima kasih ,Sama-sama and Selamat jalan. It shows they pre-plan the trip by knowing the basic greetings, the do's and don't in Malaysia.
10.16.1. Based on my experience, I have meet a number of Italian tourist in Sabah. They are very friendly and enthusiastic in teaching me their language or showing me their beautiful but mouth-watering food on Instagram. The stereotype I had about them before was that they were known to be loud. However, after knowing them personally, they are more into being jolly while talking about something that interest them.
10.16.2. From my experience Germans tourists take their holidays very seriously. Even when they're on a holiday, they tend to do it with a lot of discipline to the point that its hard to tell either they're having fun or they're competing in something. However on my opinion, I think that their actions are reasonable since they're paying for their holiday and its understandable that they take these things seriously.
11. Tourism Available Products - students to identify the available tourism theme that fits the "locals/domestic market with a brief definition and examples
11.1. 2. Wildlife Tourism - Based on UNWTO, this type of tourism can be related to the observation and interaction with local animal and plant life in their natural habitats. It encompasses segments. For instance, the eco-tourism, safari tours and mountain tourism among others. For the wildlife tourism occurs mainly in protected areas.
11.2. 4. Camping Tourism is outdoor activity that involves an overnight stay in a tent
11.3. Jungle Treks & Trails- According to Wonderful Malaysia, Many tourists come to Malaysia to see one of the spectacular National Parks in Malaysia. For example, Taman Negara Endau-Rompin in Johor.
11.4. 6. Business Tourism- People travel to attend meetings, congresses, exhibitions, business events, incentive travel and corporate hospitality.
11.5. Birth Tourism - Also known as maternity tourism which is a practice of traveling to another country for giving birth to obtain citizenship. Some examples of countries that give citizenship by birthright are the United States and Canada.
11.6. Accommodation - The terms accommodation refers to a room building or lodging which provides shelter for a person to stay, sleep and live. For example, in hospitality industry refer to the hotel, resort, bed and breakfast, and guest houses.
11.7. Shopping Tourism - shopping tourism becoming a increasingly relevant component of the tourism value chain. The local tourists also can make a shopping tourism. For example, local people who come from Kuala Lumpur which is they travel to Sarawak. They will do the shopping and buy the local product.
11.8. Mountain Tourism - A type of tourism activity which takes place in a defined and limited geographical space such as hills or mountains with distinctive characteristics. It encompasses a broad range of outdoor leisure and sports activities. For example Gunung Kinabalu in Sabah.
11.9. Recreational sports tourism. This product is also part of one of the growing tourism sectors. Many tourists are attracted to recreational sports activities that make it an exciting trip for them even if it is not their main objective. For example, Malaysia has hosted the Kuala Lumpur Sea Games 2017. This has opened the door to sports tourism with the arrival of tourists to participate directly in the Sea Games.
11.10. Gastronomy tourism. This kind of tourism is related to every people who like to explore and taste different tastes of local foods. For example, in Terengganu, there's a lot of stalls that allow tourists to experience making Keropok Lekor by themselves.
11.11. Urban tourism is a form of tourism that takes place in a city and is defined by non-agricultural economic activities such as administration, manufacturing, trading, and services, as well as being nodes of transportation. Urban or city attractions provide a wide variety of cultural, architectural, technical, social, and natural experiences for leisure and business.
11.12. Ecotourism is catering for tourists wishing to experience the natural environment without damaging it or disturbing its habitats. It is a form of tourism involving responsible travel to natural areas, conserving the environment, and improving the well-being of the local people. for example, Kinabatangan River in East Sabah.
11.13. Water Tourism - Water tourism is involving travel to water based destinations such as islands , waterfalls and rivers. In this type of tourism , tourist will be doing most activities relate to water such as diving , surfing , kayaking and snorkelling. Some examples of destinations for water tourism in Sabah are Pulau Mamutik , Pulau Mantanani , Kinabatangan River , Padas River and Ulu Kionsom Waterfall.
11.14. Heritage tourism- this tourism theme can be classified ad s a travel to learning or experience something new or history about the place. This tourism theme very useful for people who wanted to travel adding they knowledge and increase the value of their self. This theme we will learn about historic, cultural and natural resources. Example place that provide this tourism theme in Malaysia such as Batu Caves in Selangor , Melaka heritage town and George town in Penang and so on.
11.15. Sport Tourism- this tourism theme were related to the tourist who love to watch a sport in live such as Olympic games and FIFA world cup.
11.16. Recreational Drug Tourism - Recreational drug tourism is a type of travel for the purpose of using recreational drugs that are unavailable, illegal or expensive. These types of tourists may cross a national border to obtain a drug that is not sold in their country. Some of the popular destinations where recreational drug tourism is thriving are Peru, Morocco, Colombia, Colorado, Netherlands, Bolivia and Laos.
11.16.1. Bleisure Tourism. What is Bleisure Tourism? It is combination of business and the pleasure of having leisure time at their destination. These business-leisure trips can be pre-planned, with clients booking their holiday at the same time as a business trip. During work trips, companies can also provide their employees with certain tourist experiences. The "digital nomad" phenomenon is also gaining popularity among millennials. This is when online staff and freelancers adopt a travelling lifestyle while working.
12. 4 Days 3 Nights Kota Kinabalu Local Authentic Food Duration 4 Days 3 Night Package Date Flexible Price Adult(s) - RM 996.00 | 243.02 USD Child - RM 797.00 | 194.47 USD (age 11 & below) Minimum pax 4 Pax For Departure MASENANG TOURS & TRAVEL
13. Itinerary Day 1 (Lunch / Tea Break) Meet and greet services at KKIA and proceed for Kinabalu City Tour with lunch at the local restaurant (Pass by State Mosque, stopover at Sabah Museum & Poh Toh Tse Temple, pass by Tun Mustapha Tower & City Mosque). Then, check in at the Selected Hotel. 1600hrs pick up from hotel and transfer Fook Yuen for Tea break and try their famous 'Roti Kahwin' and Teh Tarik. Thereafter, witness the Sunset at Signal Hill. Return back to the hotel. 1900hrs, food hunting for dinner at guest own expenses. Overnight at the Selected Hotel. Day 2 (Breakfast / Lunch / Tea Break) Breakfast at the hotel. 0900hrs pick up from Hotel. 1000hrs Shopping for grocery (Main & Wet Market). 1030hrs Proceed to D\\\\\\\'Soka, Kinarut and meet up Puan Halimah (Host) for briefing cooking **Light refreshment served. Main Dish to cook is Ayam Liku & Paku Pakis + 5 Dish 1200hrs Cooking dish will be served together during lunch. **Souvenir will be given to the guest. 1300hrs Return back to Kota Kinabalu. Then continue to Mari-Mari Cultural Village. Upon arrival, you will be greeted as preparation for you time-travelling into prehistoric Borneo; briefing on the Village Rules is a must before you enter. You will be greeted by the Chief and go through a custom Welcome Ceremony. Then you may walk through the suspension bridge to enter Mari-Mari. Mari-mari Cultural Village is combination of five ethnics such as Dusun, Rungus, Murut, Bajau and Lundayeh. Every ethnic has their own exotic stories and traditional dance as well as their historical. Hi-Tea will be served inside Mari-Mari itself. Then, it is time to bid farewell to the villagers and depart into the 21st century. Return back to the hotel. 1900hrs, food hunting for dinner at guest own expenses. Overnight at the Selected Hotel Day 3 (Breakfast / BBQ Lunch / Dinner) Breakfast at the hotel. 0830hrs pick up from the hotel and transfer to the jetty for about 20-minutes boat ride to Sapi Island. You may go for swimming, snorkeling or just sun-bathing along the beach as well as enjoy the water sports activities at your own expenses. 1200hrs, a sumptuous BBQ Lunch is served. Free at leisure. Return to mainland in the late afternoon and transfer back to the Hotel. 1900hrs. pick up from the hotel and dinner at the D'Place Kepayan Restaurant and try our best of Kadazan-Dusun Cuisine. Transfer back to hotel. Note: Things suggested to bring are sun block / tan lotion, swimming attire, towel, extra clothes for change, personal toiletries etc. Day 4 (Breakfast) Breakfast at the hotel. Free at own leisure. 1200hrs check out. Transfer to KKIA for flight home.