2.We decided to create comicstrips on cyber bullying and fake news .Let's identify the main characters of the story.(Howmany people,pets,parents,best friends,eldery relatives)
by Seçil uçum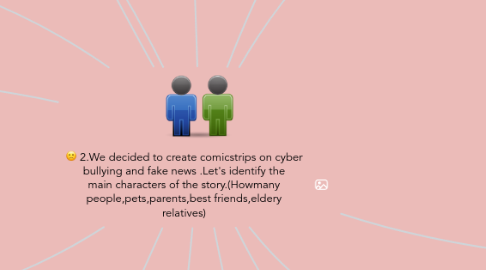 1. i think that the main characters should be a girl named Cat that is bullying by some mean girls from school just bc the girls are jealous on her. Cat has a bff that is a boy and that protects her from the mean girls sometimes and that is very kind to her. Cat has also a pet that ironically it's a cat and she leaves along with her grandparents bc her parents died a long time ago. Cat is a smart and a shy person who ls kind and sweet and has a big heart. Nicolle S.
2. I also liked Ece's opinion and l think there must be twins.They may have one dog and two hamsters.They can live with two of their closest friends.Their families can live abroad. Havin D.
3. I think that Elaine can be the main heroine of the comic. The other characters the best will be leave to each school, because Elaine could have more friends and more different ideas for that. Davorka D.
4. . I think the characters should be 3 people, one is someone who is cyberbullied, this is someone who is cyberbullying, the teacher who creates awareness. MERVE.D
5. I think the main characters should be two high school students. Have teachers and classmates in supportive characters. SUDE NAZ EROL
6. I quite like your idea ECE G., I do think the story requires an older pair of people as well, as they are the least digitally educated and can serve from a story point (the young teach elders about the Internet and so on). Maybe we can make a combination -> 2 young characters and 2 old characters (of course we would split the genders equally) Perhaps we add a educator as well, like a teacher? Karlo F.
6.1. I agree with you .If we have a teacher , our characters can emphasize the topic we want to keynote.Delfin
7. I think there should be 2 main characters, a boy and a girl, and his two best friends. and maybe they might have a dog.So as side characters, 2 best friends and class teachers will help us to create good comics . Remember an old and funny grandmother to raise awareness.SEÇİL U.
8. I think there might be twins in main character. They can live in the same apartment with their close friends and they may have a dog. their lower neighbors may also be older people and they maybe have a dog. ECE G.
8.1. It is a good idea to use twins as main characters .Delfin
9. I have not discussed it with my partner yet, but I think there are going to be like 4 characters. One is going to be the avatar of my partner, another is going to be one of the teachers of this project, another character is going to be me and finally there is going to be a person who I still don't know who is going to be. Maybe we will change, but surely it will be something similar, removing or adding characters. Gonzalo Navarro Caballero.
10. I think there should be three people in the story. three may be teenagers and one adult. a teenager may be the victim of cyberbullying, two of them be bullying, and an adult informs about this them. Ahsen Ö.
11. Maybe grandparents and their 2 or 3 grandchildren. The grandchildren's parents can be there with them too. A cat would be really cute. Simay S.
12. There may be three people: the site owner who is the bully, the girl who is bullied, the mother who creates awareness..Delfinnur
13. Counselor teacher and two students.Perhaps the parents of the students may be with them. BARAN.B
14. l think there must be 2 people. one girl and one boy. the conversation should go at home.Ömer S.