PLATE BOUNDARIES
by Abby Robins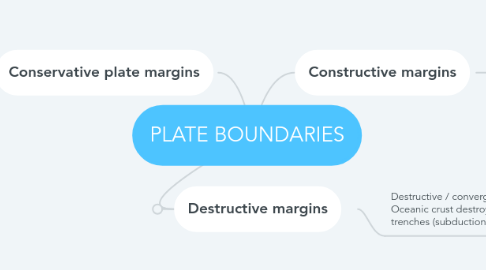 1. Conservative plate margins
1.1. Conservative transform boundaries. Plates move past each other laterally, no creation or destruction of crust. Plates can stick, leading to frictional stress build up, eventually release & erupt.
2. Constructive margins
2.1. Constructive / divergent boundaries. New crust created at mid ocean ridges. New oceans created at major rifts. Spreading rates 1-10cm/yr.
3. Destructive margins
3.1. Destructive / convergent boundaries. Oceanic crust destroyed at deep ocean trenches (subduction zones).