Google
by Erick Ebert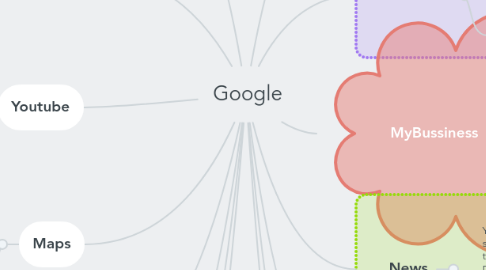 1. Images
1.1. Google Images (previously Google Image Search) is a search service owned by Google that allows users to search the World Wide Web for image content.
2. Search
2.1. The main purpose of Google Search is to search for text in publicly accessible documents offered by web servers, as opposed to other data, such as images or data contained in databases.
3. Gmail
3.1. Gmail is a free email service developed by Google. Users can access Gmail on the web and using third-party programs that synchronize email content through POP or IMAP protocols. ... Users can receive emails up to 50 megabytes in size, including attachments, while they can send emails up to 25 megabytes.
4. MyAccount
4.1. It has been everything about your account
5. Youtube
5.1. YouTube provides a simple way for people to store videos online and share them with others. YouTube videos cover any topic anyone cares to upload a video about. These videos are easy to share via other forms of social media, email and websites and can also be embedded in other websites.
6. MyBussiness
6.1. Google My Business is a free and easy-to-use tool for businesses and organizations to manage their online presence across Google, including Search and Maps. To help customers find your business, and to tell them your story, you can verify your business and edit your business information.
7. Maps
7.1. It offers satellite imagery, aerial photography, street maps, 360° interactive panoramic views of streets (Street View), real-time traffic conditions, and route planning for traveling by foot, car, air (in beta) and public transportation.
8. News
8.1. You can use Google News to help users stay up-to-date on the news that matters to them. With Google News, users can: Discover current events, world-wide news, and diverse content from different publishers. Subscribe to specific news providers and topics.
9. Meet
9.1. Google Meet is a video-chatting service designed primarily for business and office use, which lets colleagues chat over video and text.
10. Drive
10.1. Google Drive is a file storage and synchronization service developed by Google. Launched on April 24, 2012, Google Drive allows users to store files on their ...
11. Duo
11.1. Google Duo lets users make video calls in high definition. It is optimized for low-bandwidth networks. End-to-end encryption is enabled by default. Duo is based on phone numbers, allowing users to call someone from their contact list.
12. Calendar
12.1. With Google Calendar, you can quickly schedule meetings and events and get reminders about upcoming activities, so you always know what's next. Calendar is designed for teams, so it's easy to share your schedule with others and create multiple calendars that you and your team can use together.
13. Weather
13.1. Google News & Weather was a news aggregator application developed by Google. It was available on the Android and iOS operating systems. The app featured a card-based interface and was similar to both the Google News desktop website as well as Google Now, which makes extensive use of cards.
14. Translate
14.1. Google Translate is a multilingual neural machine translation service developed by Google, to translate text, documents and websites from one language into another.
15. Shopping
15.1. Formerly known as Product Listing Ads, Google Shopping is a service provided by Google. It allows customers to search for, view and compare products. These products are displayed when a customer uses Google to search for a product. They can appear in the main search engine results page or under the shopping tab.