The Cause of the Renaissance in Italy
by Nicola Barry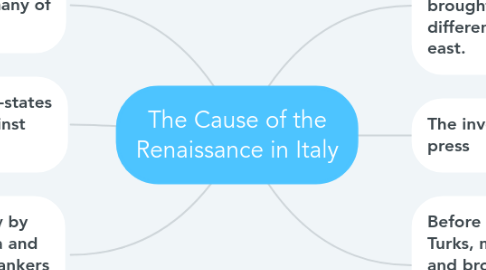 1. City life was based on merchants and commerce. Merchants brought ideas from many different places, particularly the east.
2. The invention of the printing press
3. The ruins of ancient Roman buildings were found in many of Italys cities.
4. Italy divided into city-states which competed against eachother.
5. Italian cities grew wealthy by expanding trade into Asia and Europe. Merchants and bankers became supporters of artists.
6. Before Constantinople fell to the Turks, many scholars left for Italy and brought manuscripts of ancient Greece and Rome with them.