Optical Instruments which uses the phenomenon of refraction of light
by jeevika murthy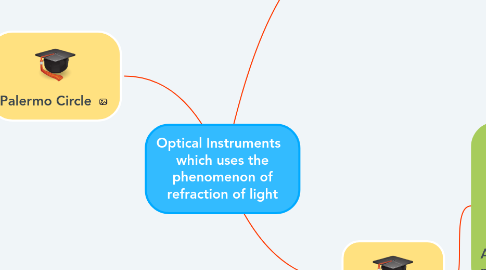 1. Refracting Telescope
1.1. Telescopes of this kind are typically used to examine the Moon, other objects of the solar system such as Jupiter and Mars, and binary stars. They are also called refractors.
1.2. The glass is referred to as a lens and may have one or more components. The physical shape of the components may be convex, concave, or plane-parallel.
1.3. The name refractor is derived from the term refraction, which is the bending of light when it passes from one medium to another of different density—e.g., from air to glass.
2. Refractometre
2.1. A refractometer is the instrument used to measure refractive index
2.2. It uses the phenomenon of refraction of light.
2.3. Using this instrument we can find out the purity of gem stones like diamonds, ruby etc and to measure the temperature of gases accurately .
3. Palermo Circle
3.1. This instrument, built by Jesse Ramsden (1735-1800) of London .
3.2. It is based on the phenomenon of refraction of light .
3.3. Giuseppe Piazzi (1746-1826) used this instrument to obtain precise measurements of star positions accurately.
3.4. Piazzi accidentally discovered the first asteroid, 1 Ceres, in 1801.