Translatability and Untranslatability in Simultaneous Interpreting
by elizabeth Torres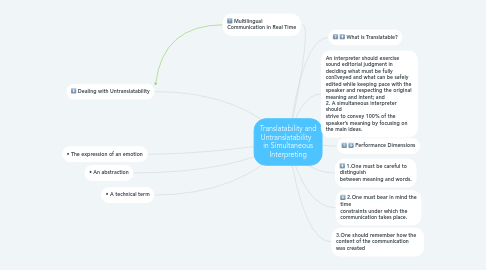 1. Multilingual Communication in Real Time
2. Performance Dimensions
3. 1.One must be careful to distinguish between meaning and words.
4. 2.One must bear in mind the time constraints under which the communication takes place.
5. 3.One should remember how the content of the communication was created
6. Dealing with Untranslatability
7. What is Translatable?
8. An interpreter should exercise sound editorial judgment in deciding what must be fully conveyed and what can be safely edited while keeping pace with the speaker and respecting the original meaning and intent; and 2. A simultaneous interpreter should strive to convey 100% of the speaker's meaning by focusing on the main ideas.
9. • The expression of an emotion
10. • An abstraction
11. • A technical term