Behind 'AggieSays' Phase 2
by Agam Kaur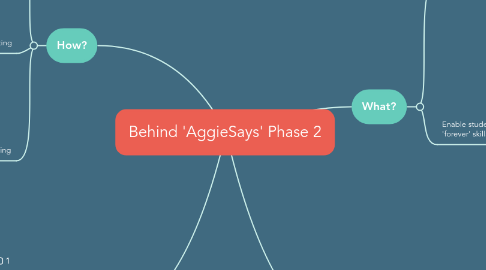 1. Why?
1.1. To prepare school students for the future of work
1.2. To instill confidence in the youth
1.3. To shift attitudes and behaviors' from reclusiveness towards participation
1.4. To develop a mindset grounded in high self-esteem and self-worth
1.5. To show kids what all they are capable of
2. What?
2.1. Create an atmosphere where students develop their engagement and participative skills
2.2. Enable students to become efficient at 'forever' skills
2.2.1. Critical thinking
2.2.2. Logical and analytical reasoning
2.2.3. Emotional intelligence
2.2.3.1. Emotional intelligence: why it matters and how to teach it
2.2.4. Public speaking
3. How?
3.1. Feasibility study
3.1.1. Develop connections in Sydney and Melbourne and gain knowledge of the area
3.1.2. Research: Questionnaires for students and parents,
3.1.2.1. Ask Nav/Rahul to join one of the institutes (Elevate/Hills tutoring centre/Crimson) , get info and learning materials
3.1.2.2. Look at similar business models, make a chart
3.2. Creating
3.2.1. Utilise research to build learning modules and interactive methods of teaching
3.2.2. Phase 1
3.2.2.1. Start an in-person tutoring center in Sydney
3.2.3. Phase 2
3.2.3.1. Develop modules for online tutoring
3.3. Launching
3.3.1. Marketing
3.3.1.1. Have business pages on facebook, LinkedIn and Instagram and a website
3.3.1.2. Create regular online content and videos
3.3.1.3. Attend/Create fun interactive events for youth (Nav to handle it)
3.3.1.4. Make a blog
4. Considerations
4.1. Important: Connect my learning outcomes to real life success scenarios. "How will these aid students? How will this make them stand out? What kind of jobs/colleges will this lead to?" RE:CRIMSON
4.2. Pro-active teaching VS. Reactive teaching